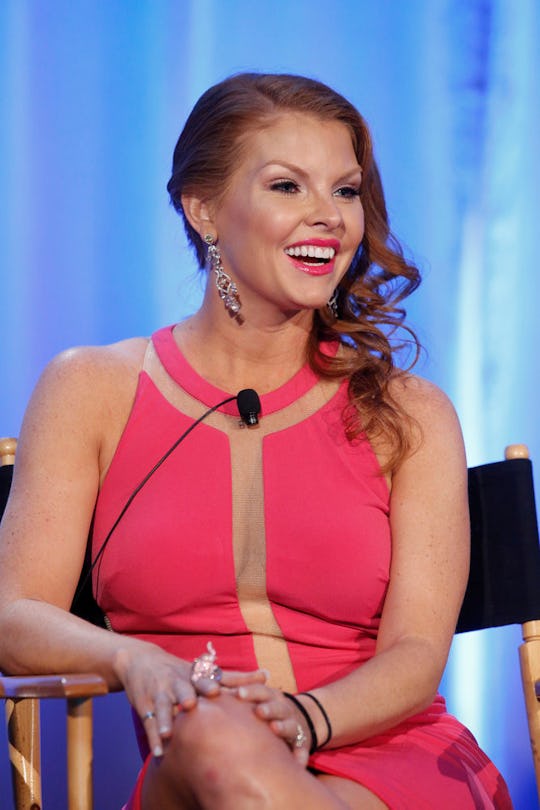 Trae Patton/NBC Universal
Who Is Brandi Redmond On 'The Real Housewives Of Dallas'? There's A Lot More To This Former Cheerleader
On April 11, Bravo is premiering a brand new city and a brand new set of ladies for their Real Housewives franchise. This time, they're headed to Dallas. And as the promo promises, everything is bigger, "the egos, the attitudes, and the bank accounts." One of the new women, Brandi Redmond, is sure to turn heads on the show. So who is Brandi Redmond on the Real Housewives of Dallas? The red-headed Texan beauty — who seems to be the subject of a lot of Texan shade in the promo — is a former cheerleader, but she's way more than cartwheels and football games.
Redmond is a former All-Star, Pro-Bowl, and five-time Dallas Cowboy Cheerleader according to her bio on Bravos website. She is a Texan through-and-through, having lived in the state where everything is bigger for the past 25 years. (Something tells me this is going to be brought up quite a lot when it comes to the women not born and bred in Texas.) She married her high school sweetheart, Bryan (aww), and together they have two little girls. She describes herself as a homemaker, and while her husband travels for business, she devotes her attention to philanthropic efforts and "shenanigans" with fellow new Housewife and BFF, Stephanie. So what else can we learn?
She Takes A Killer Selfie
This Real Housewife could give Kim K. a run for her money in this shot she snapped of herself on the way to the Real Housewives of Dallas press premiere. Slay, queen!
She Has Two Adorable Daughters
Brandi is the happy mom to two adorable daughters named Brooklyn (6) and Brinkley (3).
She's Proud To Be Texan
The Dallas Cowboy Cheerleaders are one of, if not the most, elite team of cheerleaders in the United States, as well as the most well-known. This throwback picture shows just how important being a cheerleader has been to the new Housewife.
She's Friends With The Cast
At least, she's friends with the cast... for now. While it's nice to think that these women begin and end as friends, anyone who has seen an episode of the franchise knows that's not the case.
She Is A Goofball
Brandi may be a southern belle, but she definitely doesn't take herself too seriously.
I cannot wait to see what kind of drama this former cheerleader has in store for the other Dallas Housewives. Will she do cartwheels around them? Or will she fumble the ball? As she says in her tagline, "I was a Cowboys Cheerleader, but in Dallas I'm never on the sidelines."