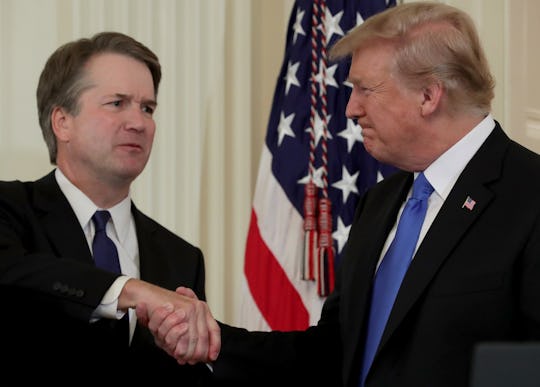 Chip Somodevilla/Getty Images News/Getty Images
Who Is Brett Kavanaugh? Everything You Need To Know About President Trump's SCOTUS Nominee
Nearly two weeks after Justice Anthony Kennedy announced his resignation from the Supreme Court, President Donald Trump issued a statement from the White House, declaring his nominee to fill the vacant seat. A number of names were floated around over the last few days, and on Monday night, Judge Brett Kavanaugh was announced as Trump's pick for the SCOTUS vacancy. But who is Kavanaugh and how could his presence in the Supreme Court impact its future?
Kavanaugh is a federal appeals court judge in Washington, D.C., according to NBC News. His current position on the Court of Appeals "often rules on major challenges to federal laws and policies," as NBC News reported. As HuffPost reported, Kavanaugh has been a known figure in the Republican party for decades, having provided counsel during investigations that led to President Bill Clinton's impeachment, as The New York Times reported. Additionally, according to People, Kavanaugh also served for President George W. Bush as a lawyer for the White House as well as staff secretary.
The 53-year-old Republican judge's nomination, should he be confirmed by the Senate when hearings takes place over the coming days, would shift the Supreme Court's balance to be heavily conservative, which is something that has many Americans worried as it would impact the outcomes and decisions of the court for years, perhaps decades, to come. Justice Kennedy often sided with liberals on important social and human rights issues, such as "abortion, affirmative action, gay rights and the death penalty," as outlined by The New York Times.
As CNN reported, Kavanaugh has not publicly spoken out against the landmark Supreme Court decision, Roe v. Wade, which made abortion legal across the nation in 1973, granting women their "constitutional right" to privacy and to make their "own personal medical decisions," according to Planned Parenthood. Additionally, according to CNN, Kavanaugh has not shared his stance on gay rights and same-sex marriage. He has, however, written "countless decisions applauded by conservatives" regarding topics like the Second Amendment and religious freedom, according to The New York Times.
Though he has not come out against some hot-button social issues, the federal appellate judge has been known to "[side] with arguments in favor of broad executive authority during his 12 years on the bench in Washington," according to The Washington Post. Steve Vladeck, a law professor at the University of Texas, told The Washington Post that Trump's SCOTUS nominee is "an unrelenting, unapologetic defender of presidential power." This is concerning and troubling, considering how the Trump's administration has handled issues like immigration, health care, women's rights as well as LGQTQ rights, to name a few.
When announcing Kavanaugh's nomination at the White House on July 9, according to CNN, Trump called the judge "one of the finest and sharpest legal minds of our time." As the news outlet reported, the POTUS also said of his nomination:
What matters is not a judge's political views, but whether they can set aside those views to do what the law and the Constitution require. I am pleased to say I have found without doubt such a person.
When Kavanaugh took the podium after Trump made his announcement, according to the CNN, he said: "If confirmed by the Senate, I will keep an open mind in every case."
Despite Kavanaugh's declaration to keep an "open mind" with every case to come to the Supreme Court, if he's ultimately confirmed, many are worried. For example, Sen. Elizabeth Warren tweeted on Monday night following his nomination that Kavanaugh's "record as a judge and lawyer is clear: hostile to health care for millions, opposed to the CFPB & corporate accountability, thinks Presidents like Trump are above the law – and conservatives are confident that he would overturn Roe v. Wade." The senator also announced that she'd be voting "no."
As The New York Times described Kavanaugh as a "conservative powerhouse," his nomination to replace Justice Kennedy has justifiably left many concerned about the fate of the Supreme Court and what's at stake. The only silver lining: Kavanaugh has not been confirmed yet, so there is still time to contact your senators and make sure your voice heard.