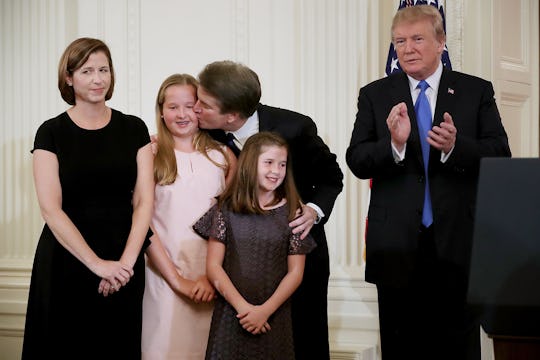 Chip Somodevilla/Getty Images News/Getty Images
Meet The Wife Of Trump's Controversial SCOTUS Pick
Now that President Donald Trump has chosen Brett Kavanaugh to replace Justice Anthony Kennedy on the Supreme Court of the United States, every aspect of his life is being scrutinized in the lead-up to his confirmation hearings. Everything from his professional judicial history to his personal life is up for analysis, and that includes his home life. For instance, who is Brett Kavanaugh's wife, Ashley Estes Kavanaugh? As it turns out, she has quite the political history herself.
Kavanaugh was born Feb. 12, 1965, in Washington, D.C., according to NPR. Kavanaugh grew up in Bethesda, Maryland, and went to Georgetown Preparatory School, PEOPLE reported. He is just 53 years old. Estes Kavanaugh, on the other hand, is a native of Abilene, Texas, and graduated from the University of Texas at Austin, according to Heavy. Her future husband instead attended Yale after high school.
So how did they meet? Kavanaugh and Estes Kavanaugh reportedly worked in the White House at the same time before they got married — and Estes Kavanaugh has a pretty impressive White House résumé bullet point.
Estes Kavanaugh served as the Personal Secretary to President George W. Bush, and worked in the White House from 2001 to 2005, Heavy reported. By comparison, Kavanaugh was a White House lawyer and staff secretary to President Bush, according to PEOPLE.
Estes Kavanaugh was also Bush's personal assistant from 1996 to 1999 when he was the governor of Texas, Your Tango reported. Additionally, Estes Kavanaugh was personal assistant for the Bush-Cheney presidential campaign from 1996 to 2000. In other words, she's been in the realm of politics for a pretty long time.
And that realm extends outside of the workplace. When Kavanaugh and Estes Kavanaugh were married in 2004, President Bush and his wife, first lady Laura Bush, attended the ceremony at Christ Church in Georgetown, according to The Washingtonian.
Now, Estes Kavanaugh is a Town Manager for Section 5 of the Village of Chevy Chase in Maryland, her LinkedIn revealed. The website for Section 5 of the village of Chevy Chase reported that it is a community of 227 houses and just one restaurant, so it sounds like a pretty small, sleepy place.
Estes Kavanaugh's position is a non-partisan one, appointed by the Town Council, according to Heavy.
Estes Kavanaugh and Kavanaugh share two daughters together, Margaret and Elizabeth, according to NPR. But a different Heavy article reported Estes Kavanaugh's second daughter as a "Liza," which is presumably her nickname. Estes Kavanaugh's first daughter was born only 13 months after she and Kavanaugh were married.
Estes Kavanaugh and the couple's daughters were all present for Kavanaugh's nomination speech. During his remarks, Kavanaugh said "I thank God every day for my family," according to video of the occasion, below.
Estes Kavanaugh did not speak at Kavanaugh's appointment on Monday night, or at least, not on camera during her husband's acceptance of Trump's nomination. It appears she's mostly lived a quiet life out of the public eye — aside from her elected position in a small town — since her days as a personal secretary at the White House.
And not much is known about Estes Kavanaugh's own political views — it's not like she has a judiciary record to scrutinize the way her husband's will be by the Senate, after all. Estes Kavanaugh's Wikipedia page lists her political party as Republican, but there is no source for that information, and anyone could have added it.
Most of what the public knows about Estes Kavanaugh is based on her past experience in politics, and what her husband has told the public about her. During his nomination speech, Kavanaugh said his wife "was a source of strength, for President Bush, for everyone in this building" after September 11th, which is certainly admirable.
But other than her political position prowess and the praise from her husband, America doesn't know Ashley Estes Kavanaugh very well yet. In the weeks to come, as elected officials determine whether Brett Kavanaugh is a suitable addition to SCOTUS, there's a chance the public may just learn a little more about her in the very near future.