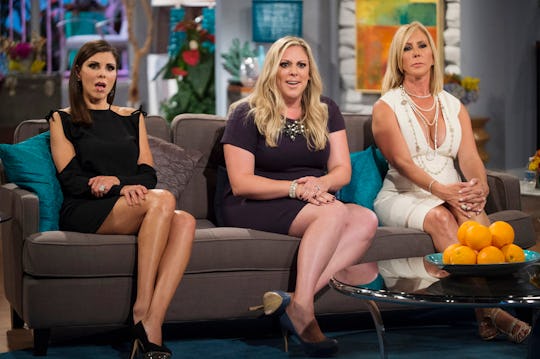 Nicole Weingart/Bravo
Who Is Briana's Husband On 'Real Housewives'? Vicki's Daughter Married A Military Man
On The Real Housewives of Orange County, Vicki Gunvalson's daughter Briana Culberson is happily married with two kids, but things weren't always peachy keen between mother and daughter, especially when it came to Briana's marriage. Briana surprised her mom by eloping unexpectedly with a guy that her mother didn't know at all. They didn't get off to a great start and it has been a bumpy road along the way, but now that Briana and her husband have moved back to the O.C., everyone in the family seems to be getting along much better. Viewers will be seeing a lot more of Briana and her family, so it's time to ask: just who is Briana's husband on Real Housewives of Orange County?
Ryan Culberson is a Marine originally from North Carolina who has moved around thanks to his time in the military; he and Briana lived in Oklahoma for years before returning to California. He's also been married and divorced previously, though his only children are the two he has with Briana: Troy and Owen. The story of their courtship is detailed on their engagement photographer's website, and it's all very romcom. They exchanged emails for seven months while he was stationed in Afghanistan and within a few days of his return they decided they were ready to get married. After that it was just a matter of driving to Vegas and having the ceremony.
Ryan and Briana ended up having a second, more formal ceremony and they've been together ever since. However, things haven't always been easy. There was Briana's prickly relationship with Vicki's boyfriend Brooks to deal with, but Ryan had his own problems too. His anger issues were noticeable on RHOC, particularly when he got into a huge fight with Housewife Lydia McLaughlin's mom over practically nothing.
Briana and Vicki claimed the blowup with Lydia's mom was due to Ryan's stress over returning to Afghanistan for another tour. Ryan chose to work with the program Save A Warrior so that he could get help handling his PTSD, the result of his five tours overseas. In an interview with the Marine Corps Times quoted by The Daily Dish, Ryan said, "I've had issues for years that I have left unresolved. I just really want other Marines to be aware of programs like Save A Warrior and know that it's OK to seek help."
Briana and Ryan appear to be doing better since then, or at the very least his anger issues are no longer making headlines. As a favorite daughter of the Housewives franchise, it's good to see Briana happy.