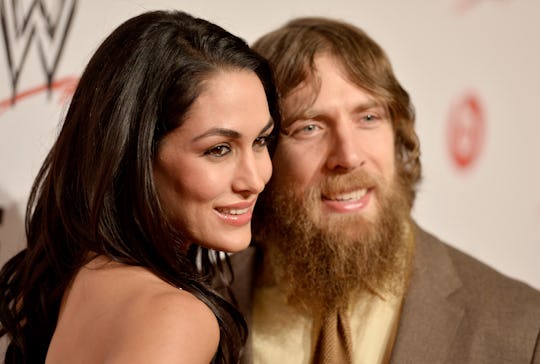 Frazer Harrison/Getty Images Entertainment/Getty Images
Brie Bella's Husband Was Really Excited To Become A Dad
People simply can't get enough of Brie Bella's bundle of joy ever since the Total Divas star gave birth to a baby girl, Birdie Joe Danielson, on May 9 — and the 33-year-old professional wrestler has been sharing little glimpses into this new chapter of motherhood ever since. But, fans might also be interested in who the E! star's parenting partner is during this exciting time. So, who is Bella's husband and how is he adjusting to fatherhood?
Turns out they have a lot in common. Bella's husband Daniel Bryan also has an extensive professional wrestling career, having retired from the sport in 2016 at the age of 34 due to medical reasons. The 35-year-old new dad reportedly sustained several head injuries while in the ring that subsequently led to post-concussion seizures. Since his retirement, Bryan has taken on a less physical role as the on-screen general manager of the television program, WWE SmackDown.
But his retirement from wrestling may be more of a hiatus. According to The Sun, Bryan said he believes he may be well enough to make a comeback one day — but he will only return to the ring if he and Bella agree that his health is in good standing.
"The concussion issue is a little bit more subjective. I'm of the belief that I am healthy to wrestle now, but there are reasons why I can't," he told The Sun back in April. "If I believe I am healthy, and my wife believes that I am healthy, and we both believe It's OK, I may wrestle again."
While it may be some time until he's ready to wrestle again, Bryan was ready to become a father well before little Birdie arrived, but was a little bummed that Bella's pregnancy would soon be coming to an end.
"I'm not nervous, I'm excited. Me and Brie are in a very good position to have kids," he told The Sun in the same interview. "I'm just excited to meet our child. The one thing I will be sad about is I love Brie being pregnant, I love it. I love being able to feel her stomach and the baby kick and all that kinda stuff. She's ready to get the baby out of there, but I'm going to miss that."
The new parents got married in April 2014 and announced they were expecting their first child two years later in October 2016.
"The day we found out, I just couldn't stop smiling," Bryan told E! News of hearing the news that he was going to be a father. "We are so excited to be parents. Every time I look at Brie's stomach, I'm amazed that there is a little life in there."
Bryan has reportedly been ready to become a dad for a while, so it's very exciting to see that his desire to become a parent has finally happened. Congrats to the happy family!