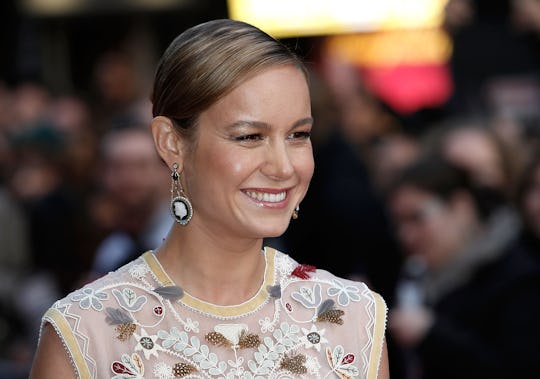 John Phillips/Getty Images
Who Is Brie Larson's Boyfriend? You Won't See Him In Her Social Media Posts Anytime Soon
She's Hollywood's newest It-Girl, but you won't find many pictures of Brie Larson and her boyfriend Alex Greenwald on the Internet. That's because Larson is super private, even though she's making a name for herself all over the place. Even after earning a Golden Globe nomination for her role in Room, Larson told BuzzFeed that she wasn't really into the whole paparazzi thing during an interview this past October. In fact, she said, she'd rather be at home playing Zelda.
According to Larson, the whole celebrity thing makes her nervous. "Because we put ourselves in a movie or on TV, then it must mean we want to be completely open to the world," she told BuzzFeed's Anne Helen Petersen. "I understand their point of view, but it's difficult to explain how terrified it makes me."
Larson and Greenwald have been an item for a little while now. You probably know him best from Donnie Darko, in which he plays the bully Seth Devlin. Both Larson and Greenwald are West Coast kids and proud of it: Greenwald is the lead singer of Phantom Planet, a band famous for that song "California" that constantly gets stuck in everyone's heads. (Or is that just me?)
As it turns out, Larson was a pop star once, too. Check her out:
She's sort of amazing, right? Larson told Buzzfeed that she's most interested in "her brain", and that she enjoys keeping to herself and living a low-key lifestyle. Given her own personal history, that's not surprising.
In an interview with NPR's Fresh Air this past November, Larson described living in a single room home as a child with her mother and younger sister following her parents' split. According to the actress, the room was no bigger than the one in the movie for which she's been nominated. "We had very few things," she said. "[But] I've always remembered that time as being one of the greatest times in my life."
Despite staying out of the spotlight, Larson's beau could still show up with her on the red carpet at Sunday's Globes — although the last time fans spotted Larson and Greenwald at a major event together was for the premier of Room; Prior to that, the two made a relatively high-profile appearance at the March 2014 Vanity Fair Oscar party.
Of course, no matter how much everyone hollers about wanting to see them together, Larson could very well just ask her beau to stay home. In her interview with BuzzFeed, the actress explained,
If there's anything I'd love for more women to know, it's to spend some time just looking in the mirror, practicing your no.
That is good advice. But seriously though... can we please just get one shot of the adorable couple together on Sunday? Just one?
Image: John Phillips/Getty Images; Giphy (1)