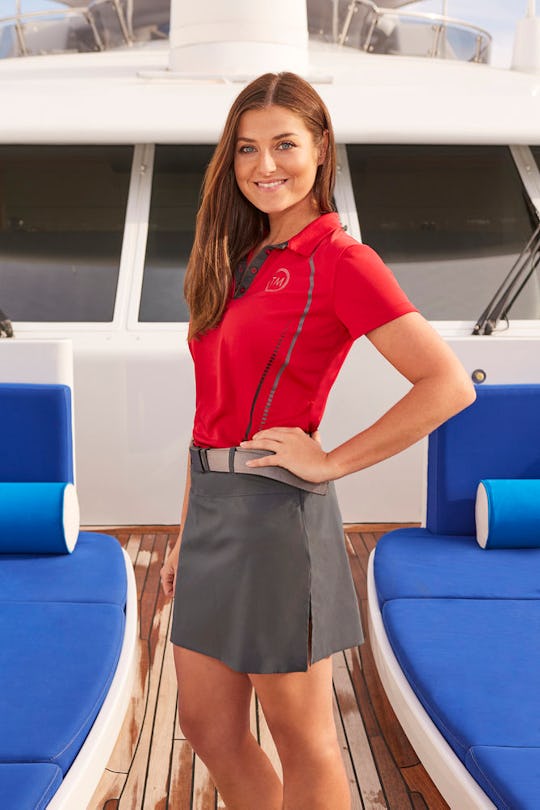 Zev Schmitz/Bravo
Who Is Brooke Laughton on 'Below Deck Mediterranean'?
If you're ready to sail the seas with scenic luxury and a little bit of drama, you're in luck, because Bravo just premiered the third season of Below Deck Mediterranean. The show returns to the water to sail through the coast of Italy, this time following the yacht crew of the Talisman Maiton. The cast this season is pretty interesting, and there's one stewardess that really stands out. So who is Brooke Laughton, and what can you expect to see from her on this season of Below Deck Mediterranean?
When it comes to yacht service, it looks like Brooke is the real deal. Her Bravo cast profile says that she was born and raised in an affluent lifestyle in Manchester, England. She spent a lot of her life vacationing on yachts, so when she decided to join the yacht service industry, she brought a lot of that experience with her. The bio reveals that Brooke went on to learn all the skills she needed land her first job on a high profile yacht, and has been promoted to the rank of Chief Stew on her current yacht.
Even though she's passionate about her job, this wasn't Brookes first choice as a profession. Her profile says that she actually attended college to pursue a degree in journalism. She learned about the adventurous and glamorous yachting industry while on assignment for school, and that's when she decided to pursue yacht stewarding as a full-time career.
When you look at Brooke's Instagram posts, it really looks like she made the right decision. Her page is full of beautiful photos from her trips from around the world, including breathtaking pictures from Milford Sound, New Zealand, Nassau, Bahamas, and Barbados. She has also posted some insanely cool photos from Zimbabwe, where she visited the gorgeous Victoria Falls and walked alongside lions and tigers. If there is any one Instagram page I could get jealous of, it would definitely be Brooke's.
While it must be one of the most exciting and adventurous jobs in the world, serving in the yachting industry has its own issues too. In a recent report in the Daily Mail, Brooke, along with other yacht service employees, revealed that there are times when guests proposition the crew through sexual advances. Brooke told the outlet that she was once propositioned to jump in a hot tub in her bathing suit by a "super hot" famous celebrity, but she refused because she wanted to remain professional. She's obviously a really dedicated stewardess, so it will be interesting to see how her time pans out on the reality show.
While it's still early in the season, there is a chance that some kind of love story brews on sea for Brooke. In her Bravo profile, she is described as a "hopeless romantic who loves to love", despite the fact that her parents split up some years back. With the beautiful backdrop of the ocean, while sailing a luxury liner in close spaces, I'm sure it won't be hard for some love to bloom.
This season, the crew is under the helm of Captain Sandy Yawn. The show will take you through downs the scenic Amalfi Coast, while the ship sails from Naples to Capri, and then onto Positano. According to Bravo, along with trying their best to cater to their guests highest demands, the crew is set to "encounter everything from hurricane winds to lightning storms" so this season is definitely one to watch. You can catch Brooke and the rest of the crew on Season 3 of Below Deck Mediterranean, which airs Tuesdays at 9 p.m. EST on Bravo.