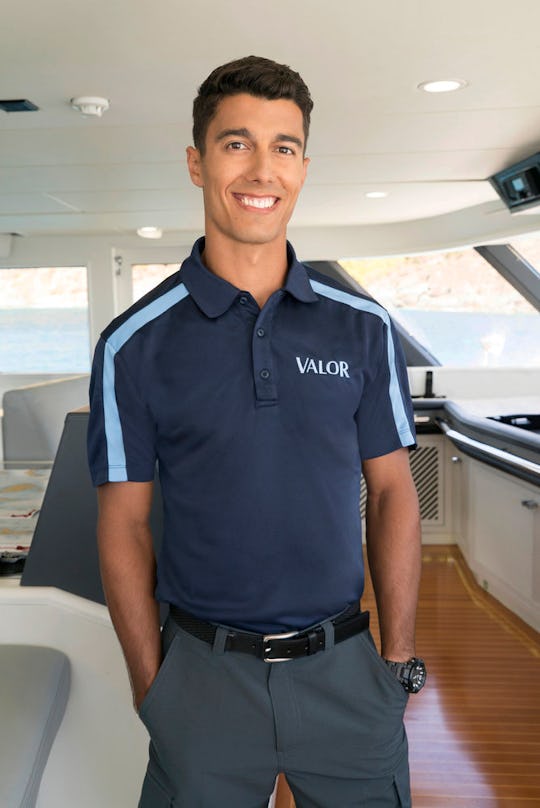 Virginia Sherwood/Bravo
Bruno Duarte From 'Below Deck' Is A Hard Worker
With the return of Bravo's Below Deck, fans of the show get old faves like Captain Lee, Kate Chastain, and Nico Scholly, but also some new faces. And some new abs. Like those of a certain Portuguese deckhand. But who is Bruno Duarte on Below Deck? This yachting newbie hails from Lisbon, Portugal, and he would like you to take note of his abdominal muscles.
Bruno is one of the few new cast-members who appears to actually have a real live social media presence. Thank god. Because otherwise how would I know that he has lots of ab muscles and a particular fondness for male nudity — which I applaud. His bio includes some very personal details, including the fact that he lost his twin brother, and had an abusive father. "Bruno was forced to be an older brother and father figure for his family." His career took him from working in hotels and restaurants to managing guest relations on cruise ships. This, I also applaud. It honestly sounds like Bruno went through a lot and I have nothing but respect for him because of this. However, that doesn't mean I don't get to tease him for the plethora of shirtless pictures on his Instagram. Because, I mean really. They do look nice, I must say.
I am not actually convinced that this man has ever put a shirt on his body of his own volition. I'm pretty sure that if he was permitted to work on cruise ships and five star hotels topless, he 100 percent would do that. To be fair, he does have more abs and pectorals and veins than I've ever seen on a person in real life. So if he wants to show that off, more power to him. I'm still gonna giggle about it though, while admiring his impressive physique all at the same time.
One important piece of information revealed by his Instagram is that he is also a Crossfit instructor which, to be completely honest, I probably could have guessed. (Again, have you seen this guy's abs? Dude is clearly very into working out.) Nowhere in his bio does this guy say that he's a model, but I'm going to go ahead and say that it could be one of Bruno's side jobs in addition to being luxury boat professional. All kidding aside, he seems like a nice guy, and I sincerely hope he doesn't get roped into any drama on the boat.