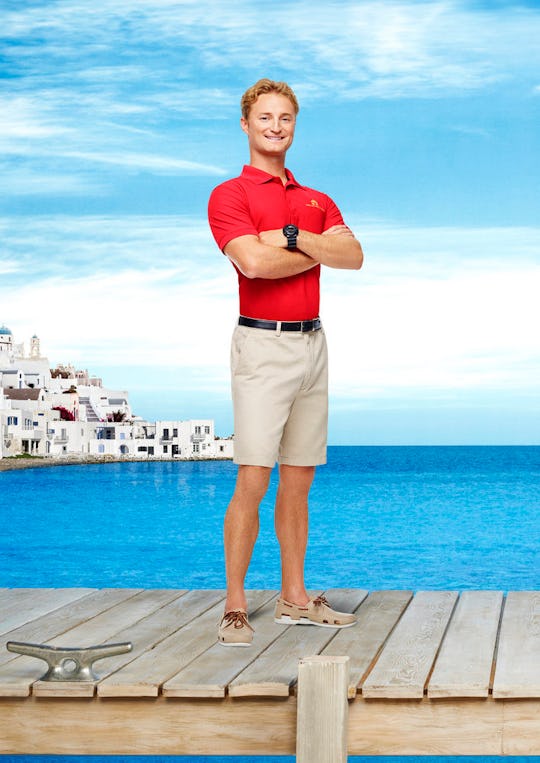 Tommy Garcia/Bravo
Who Is Bryan Kattenburg On 'Below Deck Mediterranean'? The First Mate Has Wild Stories
Bravo's Below Deck returns on Wednesday, May 3 with a new location-specific spinoff set in the Greek Islands. While the first three seasons of Below Deck featured a crew servicing a luxury yacht in the Caribbean, Below Deck Mediterranean follows a new crew on a new yacht, catering to the elite clientele who can afford renting a whole ship to zip around Greece. At the helm is Captain Mark Howard and his First Mate promises to bring some romantic drama as "a self-proclaimed lover, not fighter." So, who is Bryan Kattenburg from Below Deck Mediterranean?
The California native has experience both as a captain and an engineer, having worked as a professional crew member on two different ships from 2011-2012. He even carries the Department of Homeland Security and United States Coast Guard Navigation Rules and Regulations Handbook around with him in his suitcase. Since then, he's been dabbling in consulting work, but, as his Bravo bio states, he attributes his leadership skills "largely to his experience being captain of several high school sports teams." While he "takes pride in getting along with everyone," his high school golden boy personality type is notorious for causing rows on Bravo with whoever the token rebellious cast member is. (As this photo suggests, it may be deckhand Danny Zureikat.)
As for his potential hookups on the ship, it doesn't seem likely that he will get with his crush Julia, since she's the romantic target of literally everyone on board (and seems to be having none of it herself).
"Boat romances are naturally going to happen," he explains in a clip about love on the open seas. "Attraction + time spent = relationship. Period."
But his most impressive accomplishment as a deckhand is undoubtedly the time Bryan reportedly taught LeBron James how to swim during a cruise he was working. He says in a clip:
"I was with LeBron James and his family. We were in the Bahamas, and he — he wasn't a strong swimmer. So I saw him swim underwater and I gave him some pointers that he acknowledged he appreciated, and I was like, boom! Just taught LeBron James how to swim!"
Let's see how far his good-natured, laid back vibes get him before Bravo drama sets in.