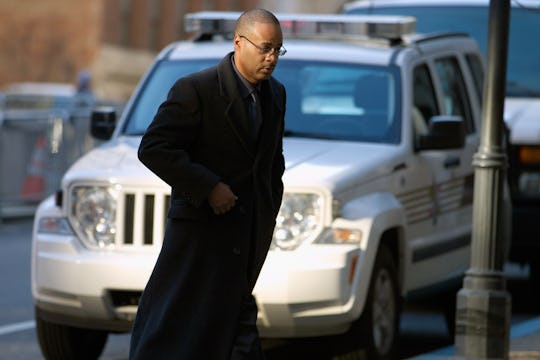 Pool/Getty Images News/Getty Images
Who Is Caesar Goodson? The Freddie Gray Officer Is About To Stand Trial
This week, 46-year-old Baltimore police officer Caesar Goodson Jr. will be heading to trial to face murder charges for the death of Freddie Gray, the 25-year-old man who suffered a fatal spinal injury in the back of Goodson's police van last year. Most people have heard of Freddie Gray, but some might be wondering: Who is Caesar Goodson, and of the six officers allegedly involved in Gray's death, why is Goodson facing the most serious charges of them all?
First, it's worth it to recap Gray's case. In West Baltimore, on April 12, 2015, a police officer on a bicycle made eye contact with Gray, who then took off running. Police pursued and arrested him, although the reason behind the arrest is unclear. Gray allegedly had a knife on him, but there was no indication that it was part of a crime, according to The Atlantic. Both police and bystanders say Gray did not refuse arrest, and that police didn't use excessive force in arresting him, although Gray's leg appeared injured.
According to the Associated Press, bystanders claimed Gray was screaming and kicking once he was in the police van and handcuffed. Soon after, he was taken out of the van, placed in leg shackles, and laid facedown in the back of the van. Although it's department policy to do so, he wasn't restrained by a seatbelt. The van stopped six times between arresting Gray and arriving at the police station. According to The Atlantic, Gray's family said that Gray had to be treated for three fractured vertebrae and a crushed voice box. One week later, Gray died from his injuries.
Of the six officers that were involved in Gray's case, Goodson is the only one facing second-degree "depraved heart" murder charges (a second-degree charge with a maximum sentence of 30 years), along with three counts of manslaughter, assault charges, misconduct in office, and reckless endangerment. So why single him out?
First of all, Goodson was the policeman driving the van, and in the past two trials regarding Gray's death, experts and officers have positioned seatbelt securing as the van driver's responsibility. Additionally, Goodson was present at all six stops that the police van took, and during one stop, he reportedly checked on Gray on his own — a fact which the prosecution is likely to point out. As Marilyn J. Mosby, a Baltimore state attorney, claimed in a press statement last year, according to The Baltimore Sun:
Despite stopping for the purpose of checking on Mr. Gray's condition, at no point did he seek nor did he render any medical assistance for Mr. Gray.
The difficulty — on both sides of the trial — will be the lack of public information about what occurred on April 12. "We have no evidence — physical, video or statements — of any use of force," Jerry Rodriguez, the deputy police commissioner, said shortly after Gray's death, according to The New York Times. "He did suffer a very tragic injury to his spinal cord, which resulted in his death. What we don't know, and what we need to get to, is how that injury occurred."
It's expected to be a tense and high-profile trial. The two previous trials have ended in either acquittal or mistrial, and since this is the most serious trial related to Gray, the world will likely be following it closely.