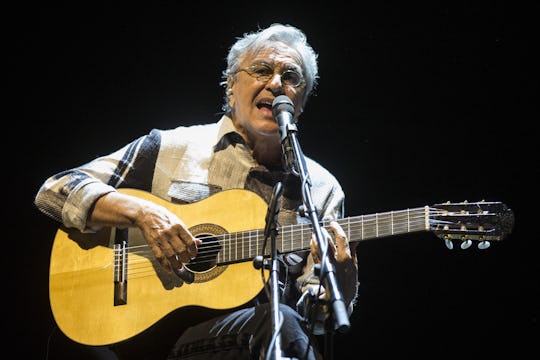 JACK GUEZ/AFP/Getty Images
Who Is Caetano Veloso? The Musician's Rio Opening Ceremony Performance Was Amazing
Amidst the controversy about whether Rio de Janeiro is prepared for the Summer Olympics came one bright spot. It was an opening ceremony that reminded the world that Rio —and the country of Brazil in general — has a lot to offer. A major part of this reminder was Caetano Veloso, whose Rio Olympics opening ceremony performance was a lovely reminder of the country's storied musical history.
Veloso is one of the most celebrated figures in Brazilian music. At the age of 73, he has an impressive track record as a musician who was one of the first to showcase a genre called tropicalismo, and was also involved in a '60s-era political movement that ultimately led to his exile from his country. Tropicalismo, which because popular in Brazil in the 1960s, was a hybrid form that embraced the traditional samba rhythms of the country, while adding rock elements inspired by popular international bands like The Beatles, according to a recent article about Veloso at The Los Angeles Times.
Veloso's longtime musical partner is Gilberto Gil, another Brazilian singer, songwriter, and guitarist who was part of 1968's "Tropicália: ou Panis et Circencis," a tropicalismo style album that popularized the new rock genre, and drew the attention of the Brazil's then-dictatorial government, according to The Times. Velosa and Gil were both exiled to London, but returned to their home country in 1974. Since then, the two have been prolific musicians and active members of the global community, with frequent international performances and collaborations.
The opening video of the Rio Olympic's opening ceremony was to the tune of "Aquele Abraco," or "That Embrace," a political song about the city of Rio written by Gil and first performed together by Gil and Veloso in 1968.
Later, Veloso and Gil were featured again after the torch lighting, this time performing an amalgamation of their songs and more traditional samba tunes. They were joined by Brazilian pop singer Anitta, and the result was a festive celebration of Brazilian music, both new and old.
While the night was a lengthy one, things certainly ended on a high note, thanks to Veloso, Gil, and Anitta's lively performance — and it's not a wild guess to say that energy will likely continue for the remainder of the games.