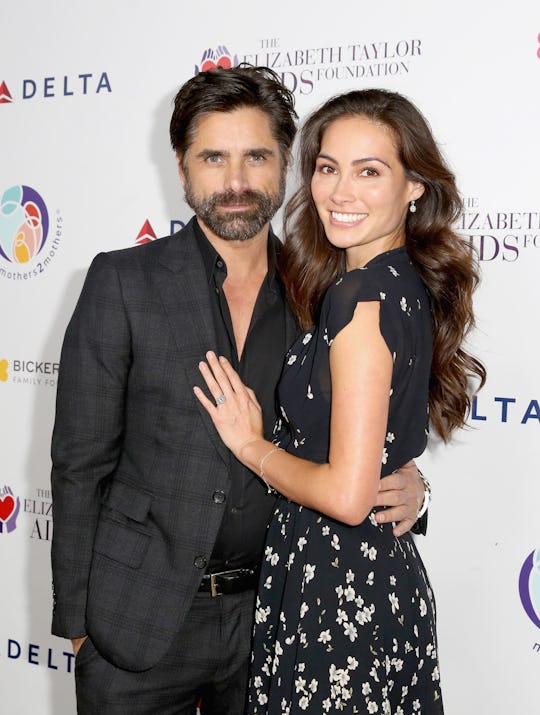 Rachel Murray/Getty Images Entertainment/Getty Images
John Stamos' Fiancée & Mom-To-Be Caitlin McHugh Has An Impressive Résumé
Actor John Stamos is perhaps most famous for his role as Uncle Jesse in the beloved '90s sitcom, Full House. But Stamos is finally getting a promotion taking on the new role of IRL Dad. On Wednesday, according to People, Stamos announced that he is expecting his first child with fiancée Caitlin McHugh. But if you're wondering who Stamos' fiancée Caitlin McHugh is after hearing this very exciting news, you're not alone. She might not have starred on your favorite childhood sitcom, but McHugh is a star in her own right.
On Wednesday, Stamos exclusively told People their reason for deciding to start a family together. "We have the same morals, and the same values, and they all clicked nicely," Stamos said about McHugh. "So we said 'Oh well, maybe we should have a family.'" So sweet.
Like most love stories to come out of Hollywood, McHugh and Stamos' relationship is based in show business. Like her fiancé, the 30-year-old is an actor who has made appearances on some of your favorite guilty pleasure TV shows, like Vampire Diaries and Switched At Birth. But unlike her fiancee, McHugh is a model, signed with Whilhelmina modeling agency.
In an interview with Entertainment Tonight at the beginning of this year, McHugh gushed about how Stamos supports her career. "He's very encouraging of anything I want to do career-wise," McHugh told Entertainment Tonight. "I really appreciate it a lot. You don't get that with every guy."
McHugh is goal oriented, too. In that same interview with Entertainment Tonight, McHugh revealed that it would be her dream to star in a Marvel or Star Wars film, or play a "strong woman who's not on the sidelines."
But McHugh and Stamos' romance doesn't date back too far. According to People, the couple began dating in March 2016 and made their first public appearance later that month. Ten months later, they co-wrote and produced their first short film together called Ingenue-ish. After the film had completed shooting, McHugh told Entertainment Tonight that if they could do a film together, they could "do anything together" — like eventually raising a child?
But there is more to McHugh than the show business; she has other interests and hobbies, too. She is a martial artist, according to Entertainment Tonight. And by looking through McHugh's Instagram account, it is incredibly clear that McHugh loves Disney and Disneyland, posting more photos from the happiest place on earth to her account more than anything else. McHugh loves Disneyland so much that Stamos popped the question there. For someone who loves Disney as much as McHugh, their proposal seemed like nothing short of fairytale. Stamos' representative described the magical proposal to E! News:
He cut together a film of someone of the most romantic moments in Disney and Pixar animation. The film concluded with Sebastian from The Little Mermaid encouraging John to "Just ask the girl." Caitlin said yes, then John whisked her to 21 Royal where they shared the news and celebrated with their families.
Although Stamos was overjoyed when he shared the news of McHugh's pregnancy with People, McHugh tends to keep a pretty low profile. Aside from what she shows on Instagram, there isn't much more to McHugh and she does this for a reason. McHugh told Entertainment Tonight last year:
We like to keep our private lives private because we've seen what relationships in the public eye can be like and we just like our privacy. We don't want the commentary from the masses about what our relationship is or should be. We're very happy together and hope to be so for a long time.
McHugh said it herself — she and Stamos seem so happy together and it shows, not only in photos but through their words. But luckily for their future child, having a mom and dad obsessed with the world of Disney doesn't seem like too bad of a deal.
Check out Romper's new video series, Romper's Doula Diaries:
Watch full episodes of Romper's Doula Diaries on Facebook Watch.