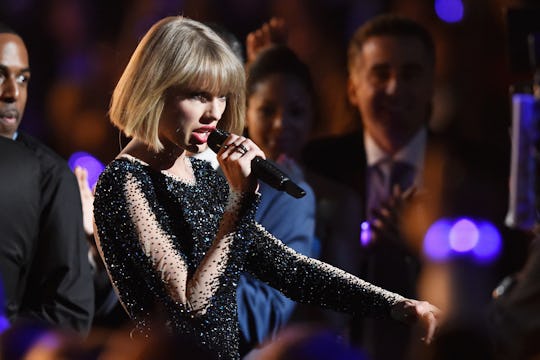 Kevork Djansezian/Getty Images Entertainment/Getty Images
This Is Who Taylor Swift Is Singing About In "Call It What You Want"
For a while, just about every two years the world was blessed with a new Taylor Swift album that usually came out in the fall. Now, though, it's been a long and grueling three years since Swift dropped a new record, so all of her announcements about her sixth album are met with excitement and intrigue. She's now released four new songs and clearly fans need to know who "Call It What You Want" is about. The latest single from Reputation is full of romantic references seemingly pointed at her new boyfriend.
Swift has basically had fans and internet users on their toes since she announced her next studio album in August. Well, technically, it was when she wiped her social media accounts clean of all previous posts just before posting videos of a snake, leading up to the reveal that Reputation would be dropping on Nov. 10.
In the weeks that have passed after the announcement, Swift has used her Instagram, Facebook, and Twitter accounts as her main form of album promotion — teasing new singles, videos, and behind-the-scenes glimpses into what the 10-time Grammy winner has been up to the past year and a half.
Some of her new hits have been hard to decode, but "Call It What You Want" is most definitely a "love song," and it seems pretty obvious that it's about her (not so) new love interest.
In fact, the first few lyrics Swift released of the song already had many theorizing that "Call It What You Want" was all about her new beau, Joe Alwyn. Here are the initial lyrics that were released:
Holding my breath/ Slowly I said/ "You don't need to save me... / But would you run away with me?" ... "Yes"
From that, it seems that Swift is talking about some sort of romantic relationship in which she feels like she's an equal partner. The sentiment that she no longer needs to be saved (as opposed to the Swift who sang "Romeo, save me" in the 2008 hit single, "Love Story"), points at a more independent Swift, who isn't going to wait around for someone. Instead, she'll simply ask if they'll run away with her, and go from there.
The starting line to those initially released lyrics are "I recall late November." This could mean Swift had such a serious conversation with Alwyn in late November, that perhaps they got together earlier that month...which could mean that maybe (just maybe) Swift released "Call It What You Want" on or around the couple's anniversary. And that would be pretty great, especially since the Swiftie fandom views Alwyn as one of Swift's best relationships to date.
For those Swifties lucky enough to have been invited to one of Swift's exclusive listening parties, dubbed "secret sessions," there was apparently some actual confirmation from Swift herself about the love songs on Reputation. According to CapitalFM.com, one fan who attended a secret session confirmed:
Any love song Taylor writes now is about Joe and only Joe. She is so happy and this is about them. And only them. This is confirmed. It's a rule. Joe love songs from here on out, this goes for all of reputation. No speculating if it is about Taylor's ex from a million years ago because I promise you it's not. Joe and Taylor, Happy.
Of course, there are certainly references in the new song to Swift's personal and professional dramas over the past year or so. The line, "All the liars are calling me one," is likely referring to Swift's "fued" with Kim Kardashian last year. But the song, at its core, is truly about Swift and Alwyn's relationship.
There are also quite a few lyrics that point to Swift's maturity and the security she feels with Alwyn. The line in the bridge of the song about Swift wearing Alwyn's initials, in particular, expresses a new kind of emotion she hasn't really written about before:
I want to wear his initial on a chain 'round my neck, chain 'round my neck/ Not because he owns me/ But 'cuz he really knows me/ Which is more than they can say
That isn't the only moment in the song where it's quite clear that Swift and Alwyn are in love. In describing all the hard times she went through before meeting him, Swift sings:
All the drama queens taking swings/ all the jokers dressing up as kings/they fade to nothing when I look at him
Really, the assumption that "Call It What You Want" is about Alwyn is certainly pretty founded, and it's also extremely lovely and sweet. Swift refers to Alwyn as the "one thing" she has done "right," and that's an intriguing statement indeed. The gist of the song is that Alwyn has shown Swift that she doesn't need to care what anyone says or thinks about her, because she's happy with him. The haters can call it whatever they want, but only they know what it is.
Watch Romper's new video series, Romper's Doula Diaries:
Check out the entire Romper's Doula Diaries series and other videos on Facebook and the Bustle app across Apple TV, Roku, and Amazon Fire TV.