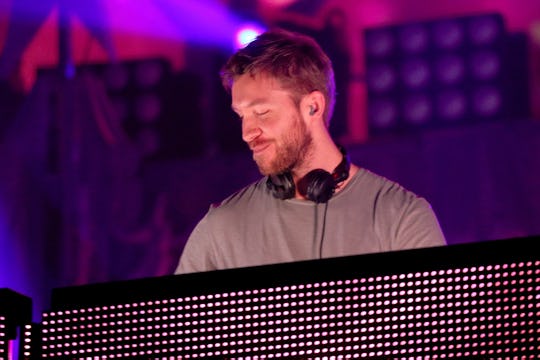 Adam Bettcher/Getty Images Entertainment/Getty Images
Who Is Calvin Harris' 'Olé' About? Taylor Swift's Ex Has A Lot To Say In His New Song
Calvin Harris' new song is here and it is dang good. Written by Harris but sung by John Newman, "Olé" has some serious potential to be the song of the summer. But I can't ignore the elephant in the room. This is Taylor Swift's former beau's first song to be released since their super public breakup, after all. And after listening closely to the lyrics, I have to wonder — who is Calvin Harris' "Olé" about?
If the rumors are true, then the song is definitely about Harris' most recent and famous ex-girlfriend, Taylor Swift. But if you listen to what other reports are saying — then the song could be about any of Harris' exes or any random girl in general, for that matter. According to People Magazine a source told them that Harris (who split from Swift two weeks ago) "wrote 'Olé' months ago." And according to E! "the song has nothing to do with Taylor." Hm.
Even if the song isn't about Taylor Swift, the timing of the song's release is impeccable. Swift and her new beau, actor Tom Hiddleston have been pictured everywhere the past two weeks — from Fourth of July parties in Rhode Island to all the way across the globe in Australia. The timing of the new couple's travels and faces in the media, paired with Harris' song release really has to make fans wonder if it isn't just a coincidence.
Until Harris comes out and says who "Olé" is about, I don't think fans will ever really know the song's subject's identity for sure. Even though the song is being labeled as a "diss track," it doesn't mean that Swift is the only person that Harris is angry towards. But, the lyrics also do provide some interesting clues that are worth interpreting to see if they're about Swift. Then, its up for fans to interpret and decide who the track is about.
My heart speaks but I ain't seen you or been with you for weeks. But I see online that you've begun to be a good girl and take trips with your boyfriend. Being attentive, continue to pretend.
If there is any line in this song that points to Taylor Swift, it is that one. Like I said before, it is hard not to see any pictures of Swift or Hiddleston nowadays. Harris has definitely had to see the many pictures of the new couple on their getaways to New York, England, and Italy (just to name a few). The last time Taylor and Calvin were pictured together was May 19 — thats definitely been a couple of weeks. Could Harris think Swift is pretending to be in to this new relationship?
In my opinion, that is really the only set of lyrics in "Olé" that I truly think pertain to Swift and Harris' relationship. But who else could the song be about? Calvin Harris and singer Rita Ora dated from 2013 through 2014 and some words were exchanged post breakup. Some have speculated that "Olé" could possibly be about Ora. But before Swift and Harris got together, Harris was dating model Aarika Wolf for seven months. The couple's relationship stayed pretty low-key but that doesn't mean that Harris still can't have feelings about it.
Believe what you will about "Olé" — whether or not its a Taylor Swift diss track or about any of Harris' ex-girlfriends — no one will really ever know. But I do know one thing about "Olé;" the song is a really great tune, regardless of its subject matter.