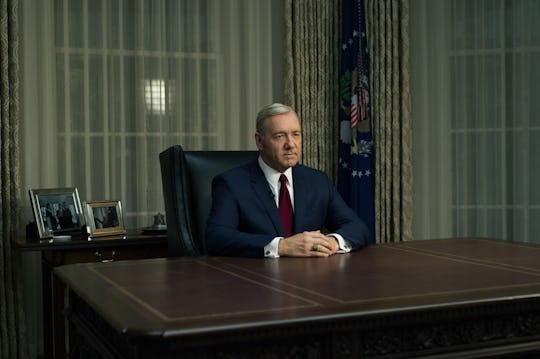 David Giesbrecht/Netflix
Who Is Calvin Underwood On 'House Of Cards'? Frank's Dad Causes Serious Problems For The President
It's another peachoid-inspired problem for Frank Underwood and co., but this time the scandal in the South has little to do with the giant peach that caused such an issue for the Senator in Season 1 of the red-hot Netflix series. As Underwood and the rest of the candidates ready themselves for the primary, someone leaks a picture of Frank Underwood's dad, Calvin, standing and smirking with a member of the KKK. (The logical question you're now asking yourself is who is Calvin Underwood on House of Cards, and why do we care about him?) Fair warning: Spoilers ahead!!
If you remember back to the beginning of Season 3, Frank is paying his respects at the grave site of his late dad — or at least, that's what it looks like. But Frank very quickly breaks the fourth wall to talk directly to the audience to relay that he's only visiting his father's grave because it makes him "seem more human," noting that you "have to be a little bit more human when you're the president." Then Underwood, who's assumed the presidency after Walker stepped down, reveals that he paid for his father's gravestone out of his own scholarship money, and the only person to attend his father's funeral services was Frank. Just for fun (because you know Frank really is getting so much fun out of this), he adds that not even his mom attended her late husband's funeral. Then, as only Frank Underwood can do, he defiles his dad's burial ground, peeing all over his tombstone.
The senior Underwood's birth and death dates are listed on the grave — born in 1935 and died in 1978 — which would put him at just 43 years old, which is an incredibly short lifetime. Frank's pretty candid about his vehement hatred for his dad — so very unlike Claire's blatant adoration for her late father — but the KKK picture throws everything into imbalance for Underwood, who's hoping to take his home state in a swift move forward for his campaign.
To categorize the picture as a thorn in Underwood's campaign would be a gross understatement. Underwood needs South Carolina, very much he needs every vote and voter he can get his hands on to secure his bid for the presidency again in 2016. But when Underwood discovers that the person who leaked the photo is the one other person he's spent his whole life confiding and conniving with, Underwood unravels. (Major spoilers, so if you don't want to know, turn back now!) He tells Claire, as he grabs the photo of his father alongside a person dressed in the traditional KKK attire:
You don't deserve it. You have no idea what it means to have nothing. You don't value what we have achieved. I have had to fight for everything my entire life. Do you know why I kept this? Do you know? Because it's the one time I was proud of my father. Because this man, in this moment, as despicable as it was, is fighting to survive. He is doing whatever it took. And so will I.
So will it be Underwood/Underwood on the 2016, or was Claire's pragmatic leak all for nothing? Only time, and poll numbers, will tell.