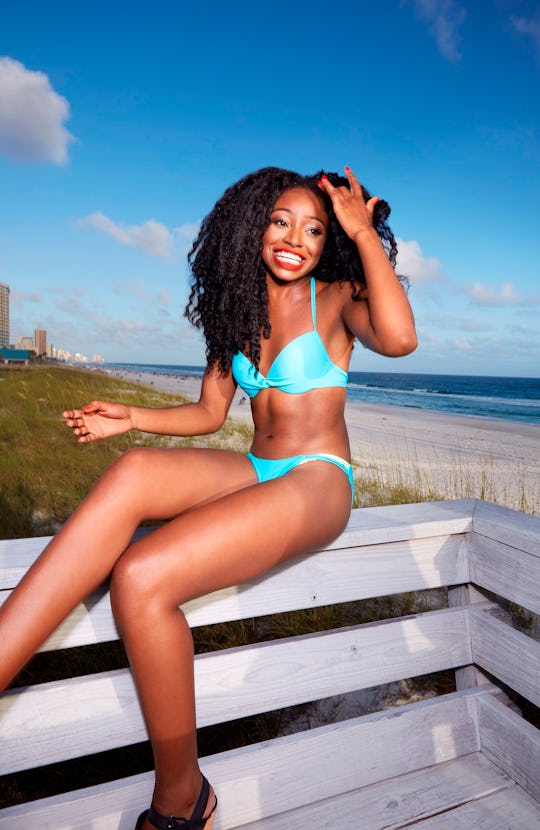 MTV
Candace Rice From 'MTV's Floribama Shore' Has A Harrowing Backstory
From the prolific mind of Jersey Shore creator/showrunner SallyAnn Salsano comes a followup reality series for MTV called Floribama Shore. The first eight-episode season follows nine castmates living in Panama Beach City (or PBC, as the cool kids call it), a hot Gulf Coast beach town in the Florida panhandle straddling the state line between it and Alabama. So who is this cast of characters? I'm particularly interested in Candace Rice on Floribama Shore since this Memphis native's bio already illuminates how different this series will be from its predecessor.
While Jersey Shore captured Italian-American culture in the New York tri-state area, all the cast members on Floribama Shore have southern roots. It's a far more diverse cast than Jersey Shore, and obviously, the fact that it takes place in the South means the show may be more racially charged that its relatively light and frothy predecessor. For example, Candace's MTV bio reads:
Candace brings the southern belle to PCB with her big hair, perfectly applied make-up and Instagram — ready outfits. But growing up in Memphis, she saw more gun violence than she cares to remember, so for her, this summer is all about being care-free. Her quick wit and no-nonsense demeanor make her a voice of reason in the house, and she happily takes wild child Kortni under her wing.
As for the inevitable comparisons to their Yankee counterparts, the cast insists that their show exists in its own universe, separate from Jersey Shore. (Although in a clever reference to the original cast's quacking "duck phone" — most famously used to call cabs in the pre-Uber era — one Floribama Shore teaser features a similar but updated crocodile phone. Of course, Jersey Shore premiered eight years ago, and I can't imagine what nine early 20-somethings would do with a landline besides stare at it in confusion.)
In an interview with Entertainment Tonight, Candace addressed the constant comparisons, promising that the Floribama Shore crew was a totally different animal. "Everybody's like, 'Oh, you can't replace Jersey Shore.' We are not replacing Jersey Shore," she said. "Jersey Shore is not replaceable. We are a different cast, a different culture, different adventures, different stories and we are an original group of people. We're not trying to touch that legacy, we're just trying to build our own."
That said, she does have a Jersey Shore cast member with whom she most identifies: praying mantis emulator Jenni "JWOWW" Farley. "I like a lot of characteristics about her," Candace admitted. "She's very much the reasonable one in the house, but she kinda has that fighting spirit to her."
While we'll probably get to hear more about Candace's dark backstory involving gun violence on the show, she also finds herself at the center of a very silly controversy early on in the season. Apparently, a drunk housemate crawls into her bed by accident, proceeds to have an accident of her own (of the bedwetting variety), and then wanders back into her own bed to pass out. When Candace discovers she's been laying in someone else's pee, she is understandably mortified, and I'm willing to bet the culprit, a woman named Kortni, doesn't live it down for the rest of the season.
But Candace boasts a "wild side" of her own which she promises viewers will get to see come out, in spite of her efforts to be the voice of reason. For example, she was nominated "most likely to be drunk by noon" in a round of cast superlatives, so she's already my favorite member thus far.
You can catch Floribama Shore when it premieres on MTV Monday, November 27.
Check out Romper's new video series, Romper's Doula Diaries:
Watch full episodes of Romper's Doula Diaries on Facebook Watch.