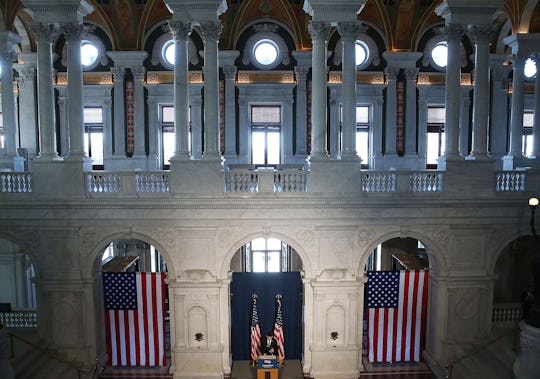 Mark Wilson/Getty Images News/Getty Images
Who Is Carla Hayden? The New Librarian Of Congress Is A Total Boss
It seems even librarians aren't immune to Congress' bickering. The nomination for the head the Library of Congress, stalled since April, was finally approved this week. On Tuesday, after five weeks of delay, Congress confirmed Carla Hayden to the post. She is the first woman and African American to hold the position. But who is Carla Hayden? Turns out, the new Librarian of Congress is a boss.
"It's like heaven," Hayden said about libraries in a White House video, adding that the local library was a treasure chest for her growing up.
Hayden comes to the position after 22 years as the head of the Enoch Pratt Free Library in Baltimore, the oldest library in the country. Before that, she was the head of the Chicago Public Library. But she is perhaps best known for keeping the libraries open during the Baltimore riots last year.
"The way the Pratt Library handled itself under pressure during the Baltimore riots ... the library recognized it was a place of information, it was a place of safety, and a place where the community could come together to discuss the issues of the city and the issues of the time," said American Library Association President Sari Feldman, who described Hayden as "a talent to be reckoned with."
The Librarian of Congress is tasked with bringing the 142 year old agency into the digital age. The library holds all the books ever published in the United States. It serves lawmakers, federal agencies and the public and has more than 162 million items.
"Michelle and I have known Dr. Carla Hayden for a long time, since her days working at the Chicago Public Library, and I am proud to nominate her to lead our nation's oldest federal institution as our 14th Librarian of Congress," President Obama said in a statement.
Hayden has her work cut out for her. The Library has been criticized for failing to keep up with technological changes and making its content accessible to people of all ages. Until late last year, the library didn't even have a chief information officer.
But Hayden says she's excited to take on the challenge. "I will be honored to build on the legacy and accomplishments of my predecessors in this position," she said, "to be part of a continuing movement to open the treasure chest that is the Library of Congress even further and to make it a place that can be found and used by everyone."