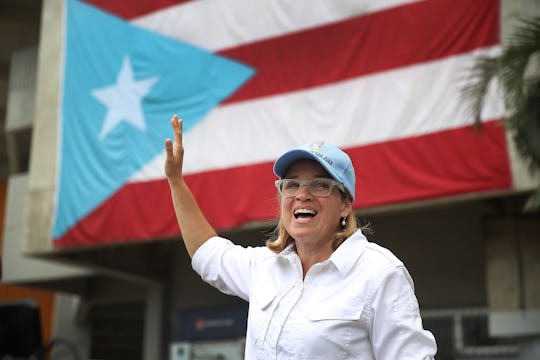 Joe Raedle/Getty Images News/Getty Images
Here's What You Need To Know About San Juan Mayor Carmen Yulin Cruz
Move over, Massachusetts Sen. Elizabeth Warren and Former Secretary of State Hillary Clinton, because there's a new Nasty Woman™ ready to take on President Donald Trump: the Mayor of San Juan, Puerto Rico, Carmen Yulín Cruz, who is currently living in a shelter following the destruction of Hurricane Maria, has been an outspoken critic of the federal government's inadequate response to the disaster, and she's dismissing Trump's claims that rescue efforts are going well. The two-term mayor appears to know exactly what she was getting into when she called out Trump, and she's more than ready for a showdown.
"People are dying in this country," Cruz said at a press conference last Friday. "I am begging, begging anyone that can hear us, to save us from dying. If anybody out there is listening to us, we are dying, and you are killing us with the inefficiency and the bureaucracy." Cruz has been doing all she can to help her city's people, even personally evacuating an assisted living facility after a generator caught fire, according to the New York Times. "That is my job," she explained. "My job is to make life better for people, and you cannot make life better if you are in a helicopter. You can't make life better for them if you can't touch them."
The people of Puerto Rico need serious help. As of Tuesday night, the death toll had risen to 34, according to ABC News. Communications are down, 95 percent of the island is without power (and will be for months), and more than half of residents don't have access to clean water. Cruz has been in the thick of it since Maria struck, wading into floodwaters and comforting her constituents. So when she appeared on TV pleading for help for her people, she might not have been expecting to have her work ethic insulted. Or maybe she was, because it's pretty classic Trump.
"The Mayor of San Juan, who was very complimentary only a few days ago, has now been told by the Democrats that you must be nasty to Trump," he tweeted early Saturday morning. "Such poor leadership ability by the Mayor of San Juan, and others in Puerto Rico, who are not able to get their workers to help. They ... want everything to be done for them when it should be a community effort. 10,000 Federal workers now on Island doing a fantastic job." That evening, he revisited the topic again: "Results of recovery efforts will speak much louder than complaints by San Juan Mayor. Doing everything we can to help great people of PR!"
Cruz told local outlet El Nuevo Día on Saturday that all FEMA had provided San Juan was "four water pallets, three food palettes and 12 baby food palettes." Numerous anecdotal reports claim that despite a conspicuous federal government presence at the airport, no aid is being offered in rural areas. On Tuesday, Trump visited the island, telling the people of Puerto Rico that they'd "thrown our budget a little out of whack" and they should be "proud" that Hurricane Maria wasn't a "real catastrophe like Katrina," according to The Hill. He also threw paper towels at them, because that's a surefire way to win friends.
Cruz, who graduated cum laude from Boston University with a bachelor's degree in political science before going on to earn her master's degree from Carnegie Mellon University, has been serving in her local government for 25 years. She's been the president of the Popular Democratic Party Women's Organization since 2003, and she was elected Mayor of San Juan in 2012 after running against three-time incumbent, Jorge Santini. Trump can call her a "politically motivated ingrate" all he wants, and she'll just keep advocating for the people like she always has, while simultaneously calling out the "insulting" and "abominable" way he's avoiding them. "Maybe he's used to women who have to be told what to do," Cruz mused to CNN's Anderson Cooper last week. "That's not who we are here in San Juan."
Watch Romper's new video series, Romper's Doula Diaries:
Check out the entire Romper's Doula Diaries series and other videos on Facebook and the Bustle app across Apple TV, Roku, and Amazon Fire TV.