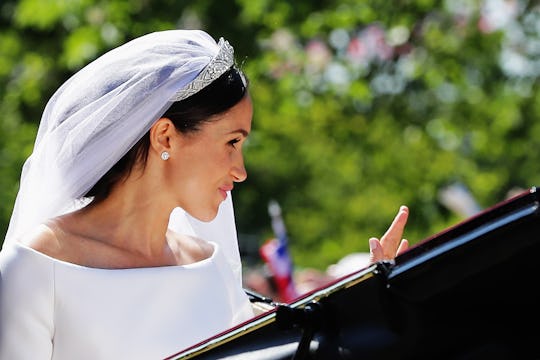 Richard Heathcote/Getty Images Entertainment/Getty Images
Who Were The Adorable Boys Carrying Meghan Markle's Train?
Meghan Markle has just gone down the aisle and it's already been a full day for the future royal. There's a lot of chaos and confusion on any wedding day, but when you consider all the extras the newly crowned Duchess of Sussex has had to complete, your head could spin. It's all led to this one perfect moment when Meghan takes her place at the doors to St George's Chapel to meet her groom at the end of the long, historically beautiful aisle. With the bridal party in place, you may be wondering, who is carrying Meghan Markle's train?
This wedding has been non-traditional from the start. Not only is the veteran party boy, Prince Harry, the new Duke of Sussex, marrying an American divorcee, but it's being held at St George's Chapel on a Saturday. Most royal weddings with this much fanfare would happen during the week at Westminster Abbey, like the wedding of the Duke and Duchess of Cambridge, William and Kate, in April 2011. Also, Meghan announced during her engagement to Prince Harry that she would not have a maid or matron of honor (or honour, if you're British), therefore, unlike at Kate and Prince William's wedding, she doesn't have a built-in train attendant.
And, as you can see, Meghan's train was quite long -- so an attendant was definitely necessary!
Rumors swirled for months about a friend who might (or might not) attend the royal nuptials, but even so, it comes as a surprise to see said friend's children carrying the gorgeous train of the American royal. The children tasked with this honor were none other than the twin sons of Markle's best friends, Ben and Jessica Mulroney, seven year old twins, John and Brian. Boy, did they look handsome as they helped Meghan down the aisle!
In fact, the boys stole the spotlight for a few moments when they looked truly stunned and excited by the reception they received carrying Markle's train into St George Chapel. Though the twins had a little trouble figuring out how to handle the train once it was completely out of Markle's car, they finally got it right and were able to carefully carry the back of her dress up the church steps. Way to go, boys!
According to reports, "Jessica is a stylist and brand strategist, and Ben is co-host of CTV's Your Morning and anchor at eTalk." They live in Toronto, Canada and are said to have been friends with Markle for years.
Markle's dress, designed by the incomparable Givenchy, is surely one that will be replicated in coming seasons, just like the gorgeous Alexander McQueen number from Prince William and Kate's wedding. That gown in particular was eventually made available in a similar style at H&M for $299.
Markle has already proven to be a fashion maven, making her own way into style icon status since she first hooked up with Prince Harry over a year and a half ago. In fact, Vanity Fair reported that it was actually fashion that brought the pair together -- or at least a fashion designer. We now owe that fashion designer everything we can find, because it helped provide society with a long-awaited royal wedding. But, their mutual fashion designer friend is not the only person who deserves to be celebrated after the royal wedding. As the makeup of their bridal party suggests, like many couples, the future Duke and Duchess of Sussex have meshed their family and groups of friends, expanding the circle to include each person's favorites. And they lived happily ever after, the end!