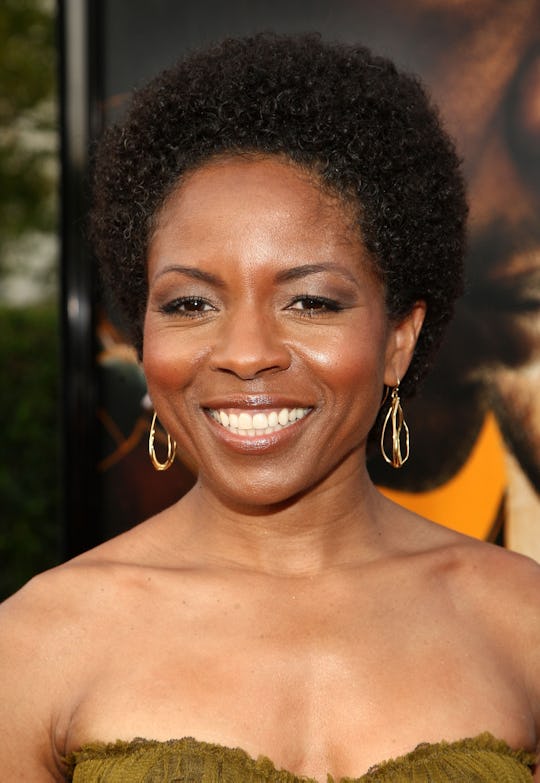 Alberto E. Rodriguez/Getty Images Entertainment/Getty Images
Who Is Celia Jones On 'House Of Cards' Season 4? She's Complicating Claire's Run For Office
OK, I'm going to be completely honest: After meeting Doris Jones (played by the flawless Cicely Tyson), I wondered how the hell Season 4 of House of Cards could get any better. Then, we meet Celia Jones. In her backyard stable meet-up with Leann Harvey, Claire Underwood mentions Doris's daughter, and I couldn't stop wondering who is Celia Jones? House of Cards thankfully answers that question fairly early on, explaining by way of Harvey that the elder Jones' soon-to-be seat in Congress is the only elected office up for grabs in 2016. Which means that the Texas 30 Congressional District just became a serious point of contention for the leading women in Texas, and maybe even the star of Season 4. (Spoilers for Episode 1, Season 4 of House of Cards ahead.)
There isn't a wealth of information to be pulled from Episode 1 of Season 4 on the ins and outs of Celia Jones' character, but here's what we know so far: the unflappable Doris Jones plans on retiring and passing her seat in the Congress representing Texas's 30 Congressional District to her daughter, Celia, who's already assembled a team to help her win the seat once her mom steps down. The breaks on that plan are pumped pretty quickly due to the arrival of Claire Underwood, who'd like the younger Jones to wait two-to-four years before moving forward with her campaign so that Underwood can take the seat in the Senate and then move on to the governorship. Sounds simple, right? Not exactly. Like everything else in the land of House of Cards, nothing is anywhere close to being easy.
Celia Jones is played by LisaGay Hamilton, an actress who's had stints on both the politically charged Scandal and before that, on the medical drama, Grey's Anatomy. Hamilton also appeared on several episodes of Law & Order: Special Victim's Unit. According to IMDb, her sister Heidi is a lawyer IRL. Hamilton has been nominated for three SAG Awards.
As it stands right now in episode 1, Celia's role in the Claire Underwood-Doris Jones feud is very much standing firmly in place behind her mom. If the older Jones goes forward with Claire's plan (which it sounds like she's definitely not going to do at this moment), that means that Celia's position in line will take a huge hit. And at this point, we just don't know enough about Celia's political power to suss out whether or not she's got the gall to go head-to-head with Claire Underwood without her mom hiding underfoot. From what we find out in the first episode, Doris Jones is planning to retire and that'll leave the remainder of her policy and plans in her daughter's hands (if she's elected), chief among those plans is the need to secure the funding for the women's breast center clinic run by Planned Parenthood in a VA hospital in Dallas. Though Claire swears she can get the funding needed from both Republicans and Democrats in Congress because no one is going to turn down a meeting with the First Lady of the United States, a shift in power by someone the Jones' view as an outsider doesn't sit well for either of them.
TBH, I don't blame them. The plan, Claire says, is that once she's laid groundwork in Texas to move on to the running for governor, she'll pass the congressional seat back to Celia no questions asked, and she'll even vouch for Celia during the election. But when have the Underwoods stayed true on a promise that didn't somehow benefit them? Since so much can change in two, or ever four, years, I don't blame the Jones women for hedging their bets and saying no, especially to someone as unpredictable and conniving as Claire Underwood.
Whatever happens this season, I hope Celia Jones came prepared for a fight, because no one tells Claire Underwood "no" and moves on.