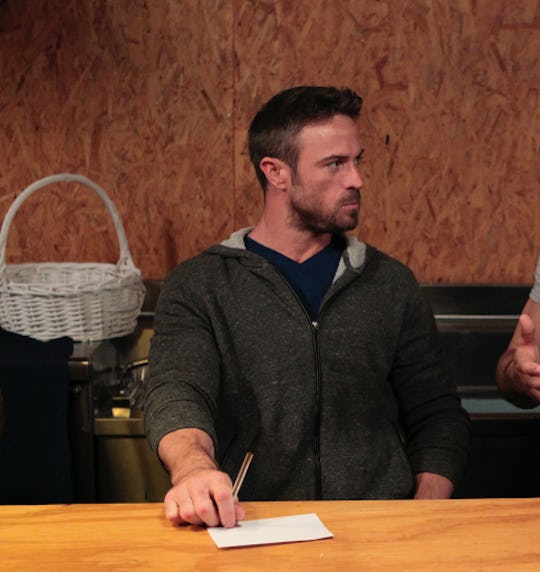 Rick Rowell/ABC
Who Is Chad Dating From 'The Bachelorette' Dating Now? He Has An Interesting Dating Pool
If you missed The Bachelorette's Chad Johnson then you're in luck: not only is he popping up on Bachelor in Paradise, but he'll be starting trouble and spilling tea on the "Men Tell All" special. And Chad certainly has a lot to tell: since leaving the show, he hasn't let up on his Chadding, not one bit. In his off time Chad has been cultivating the art of the troll and leveling up on his own unique combo of shadiness and comedy. Chad has been doing the most to get a rise out of the other Bachelorette contestants, and he's utilizing a very small dating pool to do so. So who is Chad dating now?
While it's hard to tell if Chad is dating anyone seriously, he's definitely gotten involved with one lady in particular. That lady would be Hope Higgenbotham, the ex of none other than Robby Hayes, who is currently on his way to maybe winning JoJo's heart (and if he doesn't, it's not for lack of trying). Chad's Instagram-announced hookup with Hope was as bizarre-but-funny as anything else he's ever decided to do, but strangely, she's not the only Bachelorette ex he's found to hang out with. Like I said, Chad has been doing the most.
Chad getting together with Hope seems like an obvious dig at Robby considering the caption Chad put on their pictures together. "While traveling this weekend, our paths crossed and I finally had the opportunity to meet Hope Higginbotham in person," he wrote. "Let me just say, she is even more beautiful in person! A great girl like her deserves so much better than someone who lies, cheats, and ends a four year long relationship in order to pursue fame on a TV show. You're amazing, I miss you already."
Yeah, that's not pointed at all. Hope is that ex of Robby's that no one will stop talking about on The Bachelorette, in part because of rumors that Robby ditched her to join the show. Chad's post certainly looks like a confirmation of that, and Robby isn't the only other contestant Chad is looking to expose. In another Instagram post, Chad posed with Grant Kemp's ex-girlfriend Jen Green with a similarly damning caption: "Mr. Steal Yo Girl. [sunglasses emoji] Don't sneak around your producer girlfriend's back and use her to make connections to get on a reality show, bud."
Wow. It doesn't look like the two are romantically involved (they aren't actively kissing in the picture, unlike Chad and Hope), but Chad is certainly making the rounds and once again he's out to make his fellow contestants look bad. Jen Green is a reality TV producer, and it was her connections that got Grant on the show in the first place. The fact that these women are happy to help Chad along in his trolling lends credence to the gossip, in my opinion, but perhaps it's all just an elaborate scheme.
In any case, how crazy is Chad's Bachelorette 2016 Ex-Girlfriend Tour? What kind of shenanigans could he possible get up to next? Thankfully, Chad has given everyone a hint as to his next move:
Honestly? I don't know that I'd be surprised if he managed it.