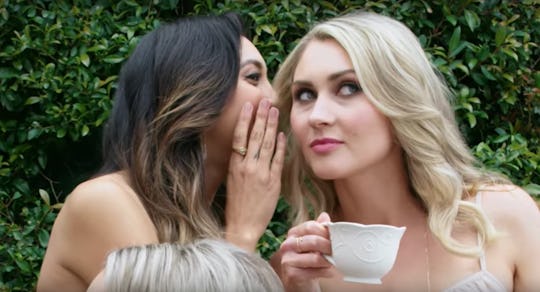 MTV
Chandlar's Boyfriend Didn't Get The Best Introduction On 'Pretty Little Mamas'
MTV's new reality series mashes up the best parts of Laguna Beach with the best parts of Teen Mom and fans are already dying to know more about the cast. Pretty Little Mamas follows a group of twenty-something moms living in San Diego who have been friends with each other since high school — that is, except for Chandlar who left the group amidst some controversy surrounding her boyfriend. But now she's back... and so is the guy. So who is Chandlar's boyfriend Aaron on Pretty Little Mamas? As was seen in the series premiere, they haven't had the best relationship.
Chandlar has a 4-year-old daughter from a previous relationship but when she met Aaron, the relationship kind of isolated her from her friends. He struggles with addiction, and, as we learned in the premiere, he's already been to rehab three times.
"Seven months ago when Aaron found out that I was pregnant he totally freaked out on me and took off," said Chandlar in the first episode. During that time, she managed to reconnect with her group of mom friends. But with Aaron back in her life, there's no telling if she'll lean on her support system or go back to her boyfriend. "Aaron has gone to rehab three times now and it just hasn't worked. But I'm hoping with the birth of his son it will give him some of that extra push."
In the premiere, Aaron appears to want to change. "I want us to be a family," he tells Chandlar. "The last three years have been rough, but since this baby I have straightened up my act."
But in the very same episode, he gets pulled over and charged with a DUI, leading Chandlar to a completely understandable breakdown. "Aaron, you're impossible to talk to," she says through tears. "I just can't deal with this anymore."
Obviously, her friends (and her mom) aren't the biggest fans of Aaron and they believe Chandlar would be better off without him. Being abandoned at the beginning of a pregnancy and then getting jerked around after giving birth isn't exactly the healthiest dynamic. But Chandlar really seems committed to the idea of having Aaron in her life.
The series has attracted criticism for everything from glamorizing young motherhood to being an unrealistic portrayal of what it means to be a mom. But the young mom squad, who admittedly gets tons of support from their families, pushes back against the notion that they can't be great moms and Instagram influencers at the same time.
"I just think people should tune in and really get to know us before they judge," Chandlar told Page Six ahead of the premiere. "I mean you can't judge a book by its cover. We're a lot more relatable than you would think."
She adds, "We've read some of the comments and they're just like, 'Oh, please.' I'm not in the trailer a whole lot, so it's for the other girls. I get it, but they don't know me yet. They're just going to have to wait and see."