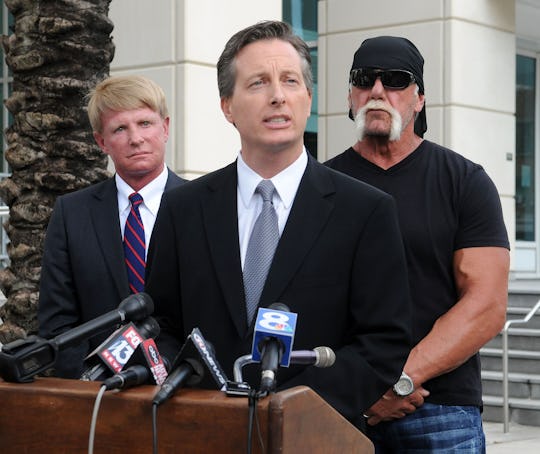 Gerardo Mora/Getty Images Entertainment/Getty Images
Who Is Charles Harder? The Attorney Helping Melania Trump Has Been Making Headlines
If anyone wants further proof that Republican presidential nominee Donald Trump is more an entertainer than a politician, look no further than Charles Harder, an attorney who the The New York Times recently deemed the "go-to Hollywood lawyer." Just this week, a dramatic email statement sent to prominent news outlets revealed that Charles Harder will be the attorney for Melania Trump in her lawsuit against The Daily Mail and other news outlets for alleged defamation. According to a report at Politico, the impending litigation centers on an article published last week in the U.K.'s Daily Mail about the early years of former model Melania Trump's romance with Donald.
The article in question references unproven allegations that the pair met in 1995 — not in 1998 as officially stated — and explores the controversy over the timeline of Melania's work visa. In his statement to reporters, Harder also references "false and defamatory statements" about Melania allegedly having been an escort in the early days of her career. "All such statements are 100 percent false, highly damaging to her reputation, and personally hurtful," Harder wrote. "She [Melania] understands that news media have certain leeway in a presidential campaign, but outright lying about her in this way exceeds all bounds of appropriate news reporting and human decency." ‌
Harder only recently stepped out of the spotlight, and now he's right back in it. He was lead counsel to former wrestling pro Hulk Hogan in the lawsuit against Gawker Media for invasion of privacy after the website published a sex tape of Hogan. The case settled for $140 million, which effectively bankrupted Gawker and led to its recent buy-out by Univision. In May, The New York Times revealed that the controversial lawsuit was secretly bankrolled by Peter Thiel, the billionaire PayPal co-founder who reportedly harbored a personal vendetta against Gawker after it published an article that outed Thiel as being gay, according to The Times.
Prior to representing Hogan, whose real name is Terry Gene Bollea, Harder had gained a reputation for defending Hollywood A-list stars in privacy rights claims. Among his past clients are Cameron Diaz, Julia Roberts, Bradley Cooper, Halle Berry, George Clooney, and Clint Eastwood, according to The Times. Harder also represented producer Lena Dunham in her 2012 demand that Gawker take down her book proposal, which it had published without her permission.
Harder, who grew up in San Fernando Valley, practices out of an office in the upscale Rodeo Drive neighborhood of Beverly Hills, California. The connection between Harder and the Trump family is obvious: Thiel, who bankrolled the Hogan lawsuit, is a public supporter of Donald Trump's candidacy. Thiel spoke at the Republican National Convention in July, saying that "fake culture wars only distract us from our economic decline, and nobody in this race is being honest about it except Donald Trump."
It's unclear whether Thiel himself referred Harder to the Trumps, but this lawsuit isn't the first time Harder has gone to bat for the Republican nominee. According to Gawker, Harder threatened a lawsuit after a media organization published an article about the Donald's hair. The website in question? None other than Gawker. As reported in June, the embattled website received a letter from Harder about a "false and defamatory" article that called Trump's 'do, amongst other things, a "cotton candy hairspray labyrinth." Harder demanded that the story be removed on the grounds that Ivari International, a hair restoration company, had been defamed.
Gawker lamented not being able to publish Harder's six-page letter detailing the alleged defamation, noting that the letter was "protected by applicable Copyright law and therefore may not be copied, published, disseminated or used by any person or for any purpose, other than internally at your company and its outside legal representatives." At any rate, Harder has now moved on from Trump's hair to Melania's allegedly checkered past. As for Gawker's involvement in this new case, it's safe to say that the website won't be involved at all, since it shut down this week.
Besides The Daily Mail, other websites on that have been put "on notice" by Harder as possible recipients of legal action include Politico and The Week, as reported in The Guardian. It's looking like the Trump family's toxic yet symbiotic relationship with the news media is finally coming to a head — and we're all watching from the sidelines, dazed and confused.