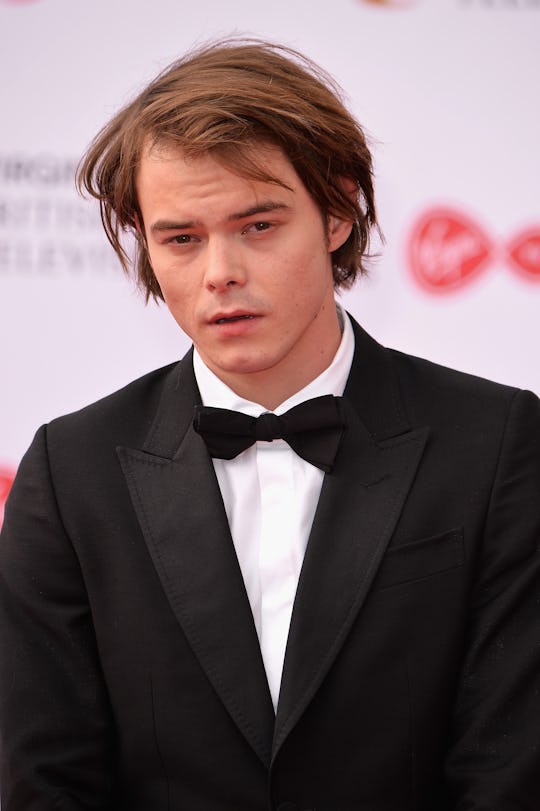 Jeff Spicer/Getty Images Entertainment/Getty Images
This Is Who Fans Think 'Stranger Things' Star Charlie Heaton Is Dating Now
If you're like most humans, you've come to be obsessed with Netflix's hit show, Stranger Things, along with the cast of the spooky series. And after so many rumors have risen about one of the stars of the show in particular, it's only natural to wonder who Charlie Heaton is dating now, after so much speculation has been made about the subject.
Well, nothing has been confirmed by Heaton himself, but rumors have been swirling that he was seeing his Stranger Things co-star, Natalia Dyer, since January, according to Us Weekly. And really, those rumors have only escalated since, as the two have been spotted multiple times holding hands and hanging out in public.
Of course, it's so important to note that this has not yet been confirmed by Heaton or Dyer, and it is merely speculation. Nevertheless, if the two are together, it would be pretty darn sweet. As fans of the show know, Heaton's character, Jonathon, and Dyer's character Nancy share some pretty intense chemistry on screen. So it would make sense that the young actors have found romance off-screen as well. However, fans are also curious as to whether Heaton is in anyway involved with his ex, Akiko Matsuura, who he reportedly shares a 3-year-old son with, according to Teen Vogue.
As could be expected, the news of Heaton having a son nearly broke the internet, as fans everywhere were positively shook. However, Heaton remains fairly private about his personal life, and likely wanted to protect his son's identity so paparazzi wouldn't follow him around. So, really, it's not that shocking. After all, being a celebrity isn't easy, but having a child in the public eye also comes with complications of a completely different sort. But, Heaton's son aside, the question of whether he's dating Dyer remain.
So, let's examine the evidence.
In March, TMZ spotted Heaton and Dyer at LAX airport, and asked them if they were together. Dyer responded, according to Glamour, basically avoiding the question:
Whether people are dating or hanging out, I think that our cast just is cool with each other. I mean, I won't speak for anybody else but it's been, you know…We're all one big family.
Yeah, yeah. That's a pretty nonchalant answer. But, this Instagram Dyer posted back in January seems to point to something more than just "hanging out." I mean, look at how she's looking at him. Those are eyes of love, people.
But, OK, let's get back to the facts. As Glamour reported, Dyer and Heaton were "spotted sharing headphones and holding hands while walking down the street in Paris," just last week, and Heaton shared a photo of Dyer to his Instagram in Paris as well.
So, were the two young actors on a romantic getaway, or were they merely in Paris for work, promoting Stranger Things 2? Well, the answer is unclear, but if this photo of Dyer that Heaton shared to Instagram doesn't give you major love vibes, then I honestly don't know how to convince you that love even exists.
But wait, there's more! In January, Heaton shared a photo of him wearing Dyer's shoes to his Instagram. Now, while this could obviously mean that the two are just friends hanging out, it could also mean that they're seeing each other in a romantic way, and maybe even spending time at each other's houses! Again, purely speculation.
According to an anonymous source who spoke to Life & Style back in January, the two are definitely together. "They've been together since before Season 2 of the Netflix series began filming in October," the source said, going on to say that the two spend "every waking minute together, on set and off."
So, are they a couple? Well, that's really only for Heaton and Dyer to say. But, stranger things have happened! (You know I had to).
Watch Romper's new video series, Romper's Doula Diaries:
Check out the entire Romper's Doula Diaries series and other videos on Facebook and the Bustle app across Apple TV, Roku, and Amazon Fire TV.