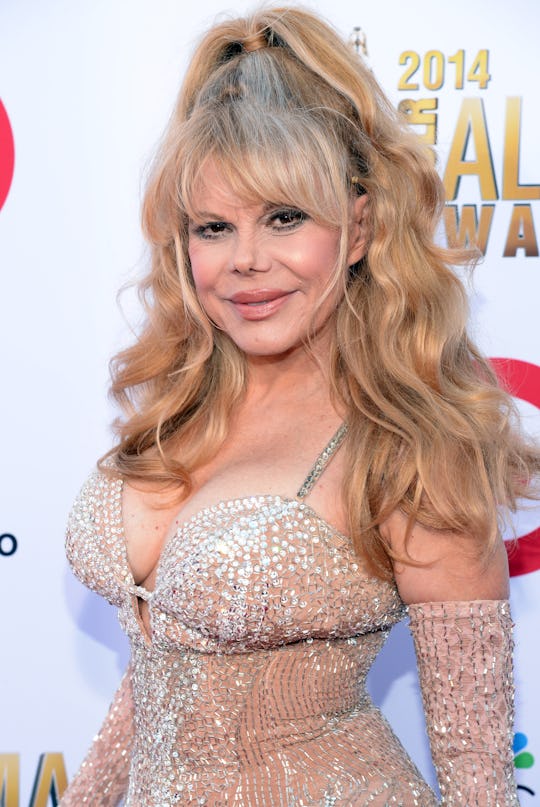 Michael Kovac/Getty Images Entertainment/Getty Images
Who Is Charo On 'Jane The Virgin'? Rogelio's Friend Is A Legend
Famous guest stars seem to flock to Jane the Virgin's Rogelio thanks to his telenovela superstardom, from notable telenovela stars like Kate del Castillo to the iconic Rita Moreno (as Rogelio's glamorous mother). The newest famous face to make an appearance on Jane the Virgin as a friend of Rogelio's is none other than the legendary Charo. Unlike some other celebs mentioned, the character she's playing is a fun riff on the lady herself. So, who is Charo on Jane the Virgin? Well — she's Charo.
Charo is one of those public figures that has always been around, or at least it feels like she has. Whether your first introduction to her was as a singing frog in the 1994 animated Thumbelina or maybe in a Geico commercial, you've likely never forgotten her sparky energy, high ponytail, and distinctive accent. Charo is a trained flamenco guitarist in addition to being a comedic actress, though she is perhaps best known for the sheer force of her personality. She's a character in her own right as much as she is a character actress. A.k.a., she's going to give Rogelio a run for his money when she joins the Jane the Virgin case on Monday's episode as herself.
Many laughs have been mined from Rogelio's vanity and thirst for fame, as well as his regular namedropping of all his famous friends. Rogelio's ease with famous names has led to a few fun guest star cameos, like when Britney Spears showed up to have a dream sequence dance-off with Jane and also continue a feud with Rogelio that started off thanks to some "Who Wore It Better" drama (the answer, of course, is Rogelio). Charo's guest spot has been many episodes in the making, considering Rogelio hasn't been shy about mentioning her up until now. One reference had Rogelio inventing a romantic tryst between himself and Charo to test just how trustworthy his new intern was; if the news got out to the tabloids, then the intern was not to be trusted — and the libelous rumor did indeed leak. So, it seems like it was only a matter of time before Charo actually stepped foot on set. She may just have a bone to pick with Rogelio after some of his more memorable (and less than flattering) quotes about her.
"Cruise ships are where old people perform. Who am I? Charo? (Who is a dear friend by the way, I would lay down my life for her.) But I don't want her career."
Charo's appearance on the upcoming "Chapter Thirty-Eight" involves Rogelio trying to get just as many famous friends invited to Jane and Michael's small wedding as he possibly can. When Jane institutes a policy that prevents him from inviting anyone she hasn't actually met (like, say, all of the Wiggles), Rogelio remedies that by introducing dear friend Charo to his daughter. Charo promises to be a fun addition to the show and a perfect match for its exciting energy.