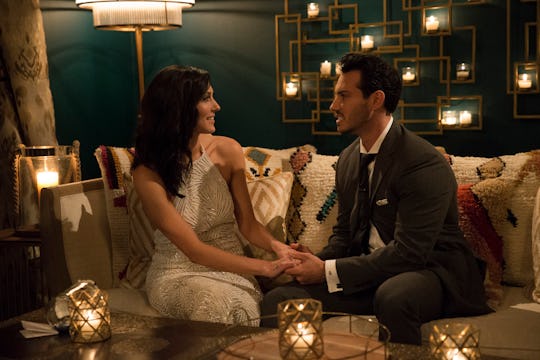 Paul Hebert/ABC
Everything You Need To Know About Chase On 'The Bachelorette'
Becca Kufrin's season of The Bachelorette hasn't even started yet, and I, personally, am already experiencing "let's do the damned thing" fatigue. But hopefully her contestant pool can keep the catchphrase to a dull roar on night one in the Bachelorette mansion. The publicist from Minneapolis, Minnesota will meet 28 guys at the inaugural cocktail party which kicks off the season on Monday, May 28. Among them will be the five guys she met during last season's After the Final Rose special. Viewers may recall one especially nervous contestant and be wondering: who is Chase on The Bachelorette? The former college baseball player wasn't the most charming guy in the sneak peek roundup, but he certainly didn't have the cheesiest entrance, either.
"I'm ecstatic to be here. I can't wait to go on this journey and adventure with you," he politely confessed in their first meeting right after she was announced as The Bachelorette. "I saw what you went through last night, and my heart goes out to you. I think that everyone agrees with me here that you deserve better than that. I hope I can be that. When one door closes another door opens, and I hope to be that open door."
Okay, so a little clunky with the metaphor, but openly throwing shade at her objectively awful ex-boyfriend who dumped her on camera and was floating around backstage somewhere? Very gallant.
According to his ABC bio, Chase played baseball for the University of South Carolina Gamecocks where he was a third baseman and twice competed in the College World Series. He started in 103 games in 2012 and 2013 after transferring to the school from Brevard Community College, The State reports. Fans of The Bachelorette love an ex-college athlete so he seems poised to start out firmly in the middle of the pack. His Instagram account is a little sleepy — mostly photos with overlaid #inspo quotes and meaninglessly clichéd captions. But there's a decent amount of muscles, well-groomed facial hair, and even a video of him playing piano on display as well, so Chase has his charms.
The 27-year-old Sanford, Florida native works as an advertising VP at Vergason Sojourner McWaters Ad Agency, which may give a little insight to his staid Instagram caption struggle. He appears to have founded the agency he works at (he's the Vergason in Vergason Sojourner McWaters) and is listed as the CFO on LinkedIn. It's also the only work experience he has listed, so it feels easy to assume he founded the boutique agency more or less right out of school. He studied Business, Management, and Marketing at the University of South Carolina-Columbia and graduated in 2014, before founding the ad agency in 2016. Vergason Sojourner McWaters looks like it's been up and running for about two years.
Although Becca seemed 100 percent ready to (cringe) do the damned thing when she met her first five guys during After the Final Rose, an interview with ABC's head of special programming Robert Mills suggested that Becca was perhaps still a little raw from her experience with Arie Luyendyk, Jr. Said Mills to Variety:
This could be one of the stranger seasons of 'The Bachelorette' because she might not truly be over Arie and it may not work — I certainly hope it does, and we will do everything we possibly can to make sure it does, but you just don't know. It certainly is a chance worth taking.
Surely, getting dumped for your runner-up two months after becoming engaged is a devastating blow, so it'll be interesting to see if the perennially extroverted Becca leaves herself some space to grieve the loss while dating a new pool of men. You can check out The Bachelorette when it premieres on ABC Monday, May 28.