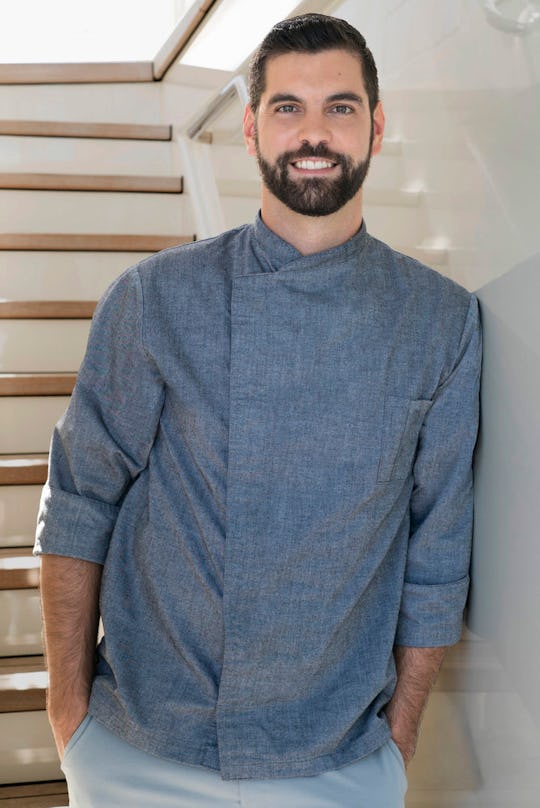 Virginia Sherwood/Bravo
Chef Matt Burns From 'Below Deck' Isn't New To The Galley
Now that Below Deck: Mediterranean has resolved its love triangle and wrapped up, that means that Original Flavor Below Deck is sailing back to Bravo. There are a few familiar faces and some new ones, including the chef. So who is chef Matt Burns on Below Deck? Well, he may be new to Bravo, but he's not new to the kitchen or the galley. The real question, of course, is if he'll be able to keep up with previous Bravo yacht chefs when it comes to the entertainment factor.
The first thing Below Deck fans are likely to be feeling when thinking about Chef Matt Burns is 'But what happened to Chef Ben!' I mean, that's what I was thinking. I don't care how great this guy's beard is, how can he possibly compete with Ben's spiky hair, his posh British accent, or his barbed sarcasm that serves as a veil protecting his secretly tender heart, revealed only during some PG flirting with Hannah? How? Well, the truth is that Matt Burns probably can't compete with Ben, but viewers can still appreciate him for whoever he is. Unfortunately, I can't seem to find any information about this guy whatsoever. He doesn't even seem to have active social media accounts.
Let's take a look at Matt's bio on Bravo, for example, which reads exactly like a cover letter for a job application. It begins:
With over 10 years of experience in the restaurant industry, and an executive chef on yachts for over six years, Matt Burns is passionate about providing five star quality cuisines and service aboard the M/Y Valor.
Well, I sure am glad that Matt's got plenty of cooking experience. But seeing as I'm just here to watch him get into fights with the stews and will not actually be tasting the food, I don't really care how talented he is. The bio finishes by stating: "When not on charter, Matt enjoys taking his vintage truck on culinary adventures around the US and Canada, discovering local cuisines that he can bring back to his next charter." That is not an interesting fact about your life, Matt. That's a response for an interview question about being a chef on a yacht.
I want to know the really important stuff. Has he recently had his heart broken? Does he have history with any of the current crew? Or even, is he close with his mom? Sadly, I see no Instagram account and no Twitter to stalk. There's a Facebook page, but with only two photos, one of which appears to be a picture of salmon and the other the top of a man's head. So I can neither confirm nor deny that it's his. So I guess what we've learned is that he's very private. That'll just have to do for now.