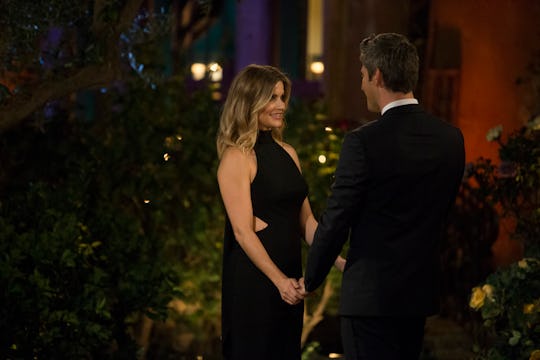 ABC/Paul Hebert
Who Is Chelsea Roy On 'The Bachelor'? The Single Mom Is One Name You *Need* To Know
With the new year comes a season of The Bachelor, literally. On Jan. 1, The Bachelor will air on ABC and introduce you to a new slew of women vying for bachelor Arie Luyendyk's heart. On Friday, People released the bios of the 29 contestants, and there are already some standouts before the show premieres next month. Until then, you'll want to familiarize yourself with who Chelsea Roy is, because this single mom is one of the names that you'll need to know when the show premieres.
Why should you want to know her before the show's premiere? Because it sounds like she's going to make an impression. In a press release for the first episode, it has been revealed that Chelsea steals away Luyendyk while in the mansion for some one on one time and the rest of the contestants take notice. If the contestants are taking notice, then the audience members definitely will, too.
But you couldn't tell this from Roy's bio published by People on Friday, which is super short and sweet. It states her full name, her age (29 years old), and her occupation which is a Real Estate Executive Assistant, based out of Portland, Maine. But beneath the basics is what seems like one super cool mama to a young son (who can be seen all over her Instagram).
Before I delve into the good stuff, what is most striking about Roy is how much she looks like former Bachelor contestant, Olivia Caridi, who competed for Ben Higgins' affection on season 20. The two share the same face shape, hair cut, color, and have very similar features — and both are undeniably gorgeous.
Roy is a working woman. According to her Linked-In profile, Roy studied at Southern Maine Community College where she earned an Associate's Degree. Roy worked as an Administrative Assistant for Dambrie Garon Real Estate experts in Portland, Maine before becoming the current Team Administrator. Dambrie Garon's website only speaks highly of Roy. Her bio on this website gives more insight into her personality and her background than her Bachelor contestant bio:
Chelsea Roy served the Dambrie Garon team as an Administrative Assistant after maternity leave where she stayed at home with her young son Samuel. Prior to joining Dambrie Garon, she had experience in administrative work at a local title company and wanted to pursue her love of homes and helping others along the process. Chelsea attended the University of Southern Maine and currently lives in Falmouth with her 3-year-old son and chocolate lab, Liv. When not in the office, Chelsea enjoys getting outside and taking in all the Maine seasons have to offer. A greater Portland native, she takes pride in her community and enjoys all aspects of life in Maine.
Roy's cast profile on ABC's website reveals a bit more about her. She has a tattoo of waves on both palms, she has a huge sweet tooth, and was a competitive soccer and field hockey player in grade school. But her profile reveals a lot about what she looks for in a man, too. She hates when men display over the top PDA (hopefully she is OK with Luyendyk's reputation as the "kissing bandit"), is most afraid of dead silence on a date, and thinks of Paris, France as the most romantic city (luckily there is plenty of traveling going on during each season).
While her work bio presents a more professional side to Roy, her Instagram reveals a look into her private life, social life, and life as a mom. Seriously, the photos with her 3-year-old son Sammy will make your heart melt into a puddle (she even has an Instagram account for her son).
Her Instagram shows how much she really does love Maine, like her work bio states. Her Instagram is filled with scenic, gorgeous shots from her New England hometown. Whether or not she'll give all of this up to join Luyendyk in his current home town of Scottsdale, Arizona is a conversation we may or may not see take place on the show.
While Roy's life seems incredibly ideal and she seems super sweet looking by her Instagram account, there is no telling how she be portrayed on The Bachelor. Once you get into a house with 28 other women, anything can happen. But it is safe to say that Roy might be one to keep an eye on — or at least, follow on Instagram for her super cute photos of her son and incredibly beautiful pictures of Maine.