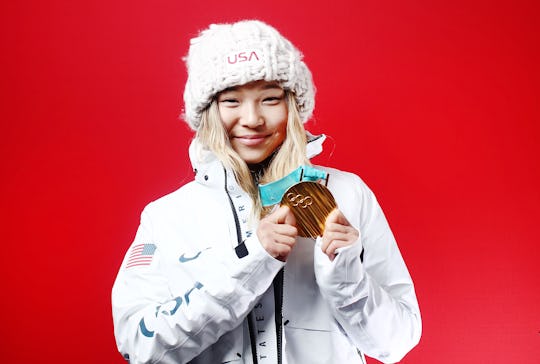 Marianna Massey/Getty Images Sport/Getty Images
Here's What Chloe Kim Has Said About Her Relationship Status — & It's Hilarious
On Monday, 17-year-old Chloe Kim became the youngest woman ever to win an Olympic snowboarding medal when she scored Team USA's third gold of the 2018 Winter Games. It takes serious time and dedication to become a champ, and fans might be wondering if she has any time left for a social life. Curious about who Chloe Kim is dating? You're definitely not the only one, and she's sure to get a lot more inquiries now, but as the old saying goes, ain't nobody got time for that. Until recently, she had a boyfriend — a fellow snowboarder who she won't name — but it wasn't worth the drama.
"I was hearing a lot of rumors about him, and our relationship in general," she told Sports Illustrated. "And I'm just at a time where I didn't really want to worry about that. So I just broke it off." Asked if it was a "business decision," she replied, "Pretty much. That sounds kind of harsh, but it's true. We're still good friends, though. At least I'd like to think so." A teenage girl who's too busy kicking butt to worry about relationships? Now that's a role model I can get behind.
Although Kim's taken a pass on gossip- and angst-filled teenage dating, that doesn't mean that she's spending all her time on the slopes. In fact, she actually hates snow! In her free time, she's just a "normal teenager," according to NBC Sports, hanging out at the mall, getting her nails done, and eating at Chipotle. That's right, an elite athlete that eats like a regular kid. Lusting after junk food has kind of become her thing lately — that is, her other thing — as she spent her down time this week tweeting about eating churros, craving ice cream, and feeling "hangry," even in the middle of competition.
Tweeting and eating don't seem to be hurting Kim's game in the least, though; in the last few years, she's been racking up record-breaking wins. At 2016's Winter Youth Olympic Games, she became the first American woman to win the gold for snowboarding, and also earned the highest snowboarding score in the competition's history, according to the U.S. Olympic Committee. She's also taken home the gold at the X Games four times, and is the only athlete in X Games history to earn three gold medals before the age of 16. And at the 2016 U.S. Snowboarding Grand Prix, she became the first woman to land back-to back 1080s, as well as the first to score a perfect 100 points (Shaun White is the only other person who has done so).
Kim has been snowboarding since she was 4 years old, and as she explained to Sports Illustrated, it was just a fluke that she got into it in the first place. Her father, Jong Jin, was trying to convince his wife, Boran Yun, to pick up the sport with him, she said.
Anyway, he only brought little 4-year-old me as a way to get her on the mountain. He was like, 'Your kid is doing a dangerous sport, and she doesn't have the support of her loving mother. What kind of parenting is this?' But she hated it, and I hated it less, and so it wound up being just me and my dad. By the time I was six I would blow down the mountain and be sitting at the bottom of the lift, waiting for my dad to do all of his dainty turns and come meet me.
To call Kim well-rounded would be an understatement. In the same interview, she discussed not only fro-yo and Riverdale, but also her real estate investments. She plays guitar and speaks three languages, and she's thinking about studying to become a vet. As for dating, she told ABC News' Amy Robach on Thursday, "I will try to go to prom, find me a boy." But don't hold her to that, because last month, she told SI, "If I do really well at the Olympics, I might not have time. I'm O.K. with that."
Check out Romper's new video series, Romper's Doula Diaries:
Watch full episodes of Romper's Doula Diaries on Facebook Watch.