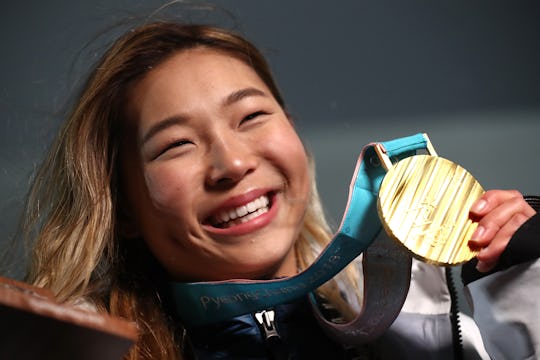 Alexander Hassenstein/Getty Images Sport/Getty Images
The Story Of How Snowboarder Chloe Kim Became A Gold Medalist Will Definitely Make You Cry
As the first female snowboarder in history to land back-to-back 1080-degree spins in competition (a title she first claimed at the U.S. Grand Prix in 2016), the first woman to win a gold medal in snowboarding at the Winter Youth Olympic Games and a four-time X Games gold medalist, it's no surprise that 17-year-old Chloe Kim won gold for the United States, according to CNN. She's now the youngest woman to win a gold medal on snow at the Winter Games, surpassing Swiss alpine skier Michela Figini who was 19 days older when she won the women's downhill in 1984.
"This is the time to be a dragon," read a text from Kim's father, moments before the Olympic halfpipe final, USA Today reported. "Today is the day the imugi turns to dragon." According to Korean mythology, an imugi is a large snake that eventually transforms into a powerful dragon that soars through clouds carrying a golden pearl in its mouth — and that's exactly what the Korean-American snowboarder Kim became on Tuesday at the 2018 Winter Olympic Games in Pyeongchang, South Korea. She, quite literally, became a gold-toting dragon soaring through the air on a snowboard.
The teenage trailblazer dominated the women's halfpipe snowboarding final, finishing ahead of her 12 competitors with fellow American Arielle Gold claiming the bronze behind China's Jiayu Liu, according to the Daily Mail. Kim received score of 93.75 on the first of her three finals runs and then earned herself a near-perfect 98.75 on her last run.
Those who know Kim wouldn't be surprised by her success. She was certainly talented enough but just too young to compete under international rules at the 2014 Winter Olympics in Sochi, Russia four years ago, and she gives her dad, Jong Jin, credit for that talent, according to CNN.
Kim's parents emigrated to the United States from South Korea in 1982 with $800 in cash to chase the "American Dream," CNN reported. When Jong Jin decided to try snowboarding, he brought his daughter, then 4, along as a decoy in the hopes she could help entice his wife, Boran, to join him. His plan didn't work, but he did quickly realize his daughter's natural talent. So Jong Jin quit his engineering job to travel full time with her, carrying her from her bed to the car and driving her from La Palma, California, to Mammoth Mountain, five-and-a-half hours away, to snowboard.
"I just dreamed it this way—not really dreamed, but it was my hope," Jong Jin said, according to CNN. "The dream came true. The American dream!"
And the dream just so happened to come true in Korea, which meant that Kim's relatives were able to join Jong Jin and Boran at the base of the halfpipe to watch Kim claim the gold. Boran's mother, who came from Seoul to watch her granddaughter compete for the very first time, was among 20 family members who watched the near-perfect performance at the Phoenix Snow Park, according to the Daily Mail.
"It is very, very special that she has won the gold in Korea," Jong Jin said, according to the Daily Mail. "Although Chloe was born in America, she is 100 percent Korean in her blood. And blood is blood."
Kim is more than a teenage athletic prodigy or Olympic gold medalist who hilariously tweets about being hangry between competitions — she's also a Korean-American woman who represents exactly what the Olympics is all about: bringing the world together.
"I'm Korean-American, but I'm riding for the States," she told ESPN before the Olympics. "At first I was confused on how that would be accepted. But now I'm starting to understand that I can represent both countries."
Kim represents the fact that we all are a combination of our roots, our upbringings, our dreams and so much more. Kim's family and their legacy all contributed to her win — and it doesn't hurt that "Kim" also happens to mean "gold" in Korean.
Check out Romper's new video series, Romper's Doula Diaries:
Watch full episodes of Romper's Doula Diaries on Facebook Watch.