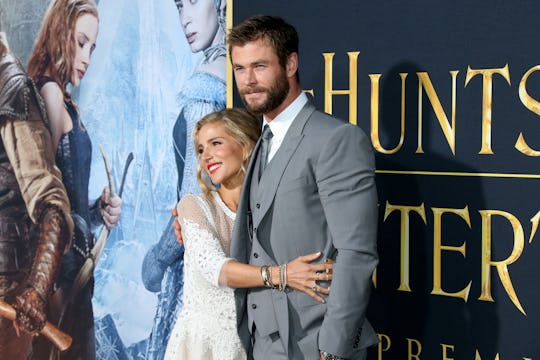 Frederick M. Brown/Getty Images Entertainment/Getty Images
Who Is Chris Hemsworth's Wife? Elsa Pataky Is Much More Than Mrs. Thor
Chris Hemsworth is, without a doubt, a pretty attractive actor and an adorable dad. He's played Thor and just hit the red carpet for the premiere of his latest movie, The Huntsman: Winter's War with his wife and mother of his three kiddos, Elsa Pataky. Hemsworth has been sharing some choice stories from their private life together while making the rounds on talk shows to promote Huntsman and the couple, in addition to being beautiful, really seem to have a sweet and relatively normal life. So who is Chris Hemsworth's wife? Elsa Pataky is much more than just Mrs. Thor.
Pataky and Hemsworth have been married for five years and are parents to India, 3, and 2-year-old twins Tristan and Sasha. The couple seems still very much in love five years and three kids later. Pataky looked unmistakably smitten at the premier of The Huntsman: Winter's War, gazing up at her husband, who was signing autographs and doing his thing. Just over the weekend, Pataky shared an Instagram picture of herself and her girlfriends out for lunch in downtown Los Angeles, and included in the group is Liam Hemsworth's on-and-off again girlfriend Miley Cyrus.
Pataky is a Spanish born model and actress who appeared in Fast Five, Fast & Furious 6 and Furious 7. She married Hemsworth in an impromptu wedding that Hemsworth described as spur of the moment after dating for only 10 months.
"There was no great plan to any of it to be honest, we were on holiday and we said, 'why don't we get married too," he told Good Morning Britain. "There probably should have been some planning but it all worked out. Honestly, we had both our families on holiday at the same time, just randomly, and we said this is a good opportunity with everyone together so we just did it."
And it seems like things have been going pretty well ever since.
The mama is also an avid yoga practitioner and regularly shares picture of her and the kids doing a little yoga here and there — really everywhere.
Here's a little yoga on the playa con mama.
And, to make you even more jealous, Pataky appears to have a pet pig that does yoga with her too.
But, despite the couple's obvious glamour, the Hemsworth family was happy to get out of LA and move back to his native Australia last year. The couple, according to the Daily Mail, dropped $7 million on a Byron Bay house with killer ocean views.
Pataky and her husband also seem to share a love of adventure. The Hunstman actor recently told Jimmy Kimmel about how his wife saved his life by getting him medical attention on a recent trip to the Himalayas when he started to suffer from altitude sickness. He said his breathing and speech became labored and left him speaking like "Darth Vader meets Daffy Duck." Despite his protests, Pataky got her husband off the mountain and then sought immediate medical attention, a move that he said saved his life. The couple is lucky to have one another — let's just hope those life-saving moments don't crop up too often.