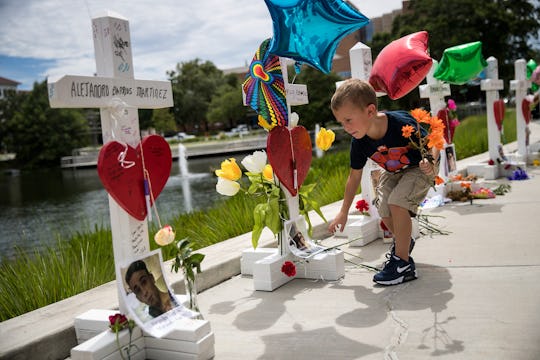 Drew Angerer/Getty Images News/Getty Images
Who Is Christopher Joseph Sanfeliz? The 24-Year-Old Died In The Orlando Mass Shooting
On the morning of Sunday, June 12, 49 lives were tragically cut short when a gunman opened fire in an Orlando gay nightclub. One week later and the world is still reeling from this heinous act of hate and terror inflicted on innocent Pulse club goers. The victims were from backgrounds, practiced different religions, and were of different ages and ethnicities, but they all came together on Saturday night for one reason: To have fun. Unfortunately, one individual's hate and homophobia turned what should have been a celebration into a national tragedy. One such victim was Christopher Joseph Sanfeliz who died in the Orlando mass shooting.
Christopher Sanfeliz was just 24 years old when he lost his life after a deranged gunman started shooting inside Pulse, a popular gay nightclub in Orlando, in the early hours of Sunday morning. He is one of 49 victims who were murdered—at least 53 others were wounded—in the massacre.
By all accounts, he was a normal, friendly 20-something guy who loved working out and hitting the town with friends. in an interview with The Tampa Bay Times, Josh Palange, a former classmate and childhood friend, remembered Sanfeliz as "the most positive guy I've ever known."
Sanfeliz worked at a JP Morgan Chace bank branch, according to family friend Mike Wallace. After taking several business classes at Hillsborough Community College, he worked his way up from bank to become a personal banker. In an interview with the TB Times, Wallace remembered Sanfeliz fondly. "He [was] a wonderful person and this is such a tragedy. He was cut down in his prime."
Looking at his Facebook page, it is easy to see that the Tampa resident enjoyed spending time with his family. Sanfeliz's family moved to Tampa from Cuba in the 1960s before Sanfeliz was born, according to Wallace.
Close to his brother and parents, his social media post is full of pictures and posts showing off his dedication to family members and friends. In one post, Sanfeliz's older brother, Junior Sanfeliz, has his arm slung over his little brother's shoulder. Another post features a picture of their mother sandwiched between the two siblings and carries the caption "I Love Mom."
Junior posted a tribute to his deceased brother to the social media site on Monday (one day after the shooting). "Everyone knows the bond that I had with my brother," he wrote. "We would finish each other's sentences, knew each other's thoughts, and could sense when the other was upset."
"He was so strong, and was my rock through everything we ever went through," Junior wrote. "He was the light of my family."
Friend and ex-boyfriend Ben Mercado revealed in a touching goodbye post on Facebook that Sanfeliz loved to dance. "I remember you teaching me the basics of Latin dancing," he wrote. "And being the first guy I ever danced bachata with. (Best experience ever.)"
The family held a vigil at Sanfeliz's alma mater, Gaither High School, on Wednesday. According to TB Times staff photography Monica Herndon, the Sanfelizes estimate 400 people showed up to mourn the loss of this "kind" and "positive" individual.
Let's be honest, it is a week since this horrible incident and most of us are still having trouble processing it. Perhaps it is because there are so many layers to the discussion around shooting: It touches on terrorism, homophobia and gun control. It's pretty evident, the thing America needs now more than "thoughts and prayers" is action.
Democrats in the Senate held a 14- to 15-hour long filibuster to call for gun control reform in response to the Orlando shooting. Sen. Chris Murphy, D-Conn., who represents the district that includes Newtown (where the 2012 Sandy Hook Elementary School shooting took place) as a member of the House, kicked off the filibuster on Wednesday night saying "I live every single day with the memory of Sandy Hook " where 20 young children and six adults were gunned down.
Countless other Democrats, including Elizabeth Warren and Cory Booker, joined the fight, standing up to support Murphy and force Republican legislatures to act on gun control measures, specifically the so-called "terror gap"–a legislative hold that allows U.S. citizens under investigation for suspected terrorist activity to purchase deadly firearms. As Hillary Clinton says, "If you are too dangerous to fly in America, you are too dangerous to buy a gun in America." Amen.
The Senate finally adjourned at 2:11 a.m. with Republican leaders agreeing to hold a vote and Murphy claiming victory on Twitter. "I am proud to announce that after 14+ hours on the floor," he wrote, "we will have a vote on closing the terror gap and universal background checks."
Murphy's office told CNN that the senator will keep "[holding] the floor push for a vote on amendments to close the terror gap and expand background checks."
Still, for me at least, it seems like all of this reform is moving too slowly. Which has me wondering: When are we going to say, "Enough is enough"? When are Americans going to stand up and say, "This is not the country we want to live in"? Because until we do, we will be hearing more and more stories about people just like Christopher Joseph Sanfeliz.