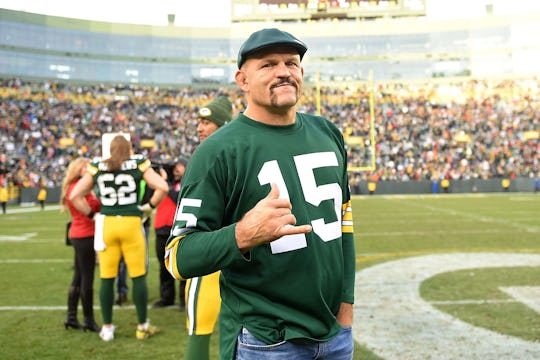 Stacy Revere/Getty Images Sport/Getty Images
Chuck Liddell May Prove To Be Tough Competition On 'Celebrity Big Brother'
An all new season of Big Brother is here, but this one is special, because it won't be regular people playing — it's celebrities. That's right, the first U.S. Celebrity Big Brother is finally happening and the cast is a great mix of people. On the list of celebs entering the house is Chuck Liddell, but who is Chuck on Celebrity Big Brother? If you're a fan of the Ultimate Fighting Championship, or UFC, you've probably heard of him.
Chuck, known as The Iceman in the ring, was one of the best UFC light-heavy weight fighters from 2005 to 2007 with four title defenses. In 2009, he was inducted into the UFC Hall of Fame during the UFC 100 fan expo. He then retired in 2010 at the age of 40 but has done a number of mixed martial arts (MMA) and non-MMA projects since then. He's also appeared on the TV series, The Ultimate Fighter, as a head coach during the show's first season in 2005. Additionally, you may recognize Chuck from his time on Dancing with the Stars Season 9. Unfortunately, he came in eleventh place during the season, so hopefully he'll get a little further in the Big Brother house.
Last month Chuck was seen in the new YouTube Red reality series, Ultimate Expedition. In the series he, along with eight other celebrities, traveled to Peru to climb the nearly 20,000-foot high Mount Tocllaraju. Following that appearance, rumors about Chuck returning to the ring continued to swirl, but he hasn't officially said if, or when, he would make a comeback.
In addition to his skill as a fighter, Liddell has also done work as an actor, appearing in a number of films and TV shows, both as fictional characters and as himself. He's been in Entourage, Criminal Minds: Suspect Behavior, Hawaii Five-0, Kick-Ass 2, Bones, and War Pigs. When he's not busy working, Chuck is spending time with his wife, Heidi Northcott, and their three children Cade, Trista, and Brendan. No doubt it'll be hard for him to be away from his family without being able to contact them while in the Big Brother house.
That being said Chuck definitely has a good shot of being the first winner of Celebrity Big Brother in the U.S. Assuming he's stayed in shape despite his retirement, he should be able to handle any physical competitions thrown his way. Chuck obviously has a competitive nature as well, and he no doubt will want to do everything he can to win. He pretty much said as much in his cast bio.
"I am going to go into the house in the beginning the unassuming nice guy that I am, assess the other houseguests, make a couple quick alliances, and play the rest of the game on my toes with the phrase in my head 'eat or be eaten!' and be ready for things to turn at any moment," he said about his strategy for the game. At least it seems Chuck is familiar with the show and how living in the house will work.
He also mentioned his favorite Big Brother cast member is Paul from BB18 and BB19, so perhaps we'll see Chuck be more of a social player as well as a physical player much like Paul was. Although, fair warning to Chuck, Paul did end up being the runner-up in both of his seasons. Just saying.
Still, it looks like Chuck has his eye on the prize and definitely knows what he's getting himself into with entering the Big Brother house. It'll be interesting to see if he makes it all the way to the end. You can meet Chuck and the rest of the houseguests when Celebrity Big Brother premieres Wednesday, Feb. 7 at 8 p.m. ET on CBS.
Check out Romper's new video series, Romper's Doula Diaries:
Watch full episodes of Romper's Doula Diaries on Facebook Watch.