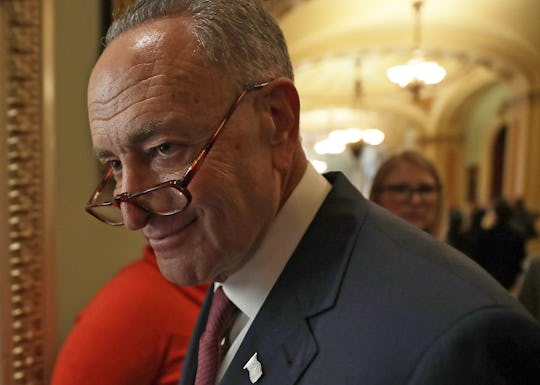 Alex Wong/Getty Images News/Getty Images
Who Is Chuck Schumer? The New Democratic Minority Leader Has Fought For Women & Gun Bans
There was a big shift on the Hill this week. On Wednesday, Democrats elected New York Sen. Charles Schumer as Senate minority leader, replacing retiring Sen. Harry Reid of Nevada. Considering that Schumer will now be leading the Democratic party through four years of a Republican administration, you may be wondering: Who is Chuck Schumer, and what does his new position mean for Democrats?
The 65-year-old Brooklyn native has been in politics for over four decades, and he's been in the U.S. Senate since 1998. The father of two authored the Omnibus Crime Bill, the rather controversial 1994 bill that put 100,000 more police on American streets in an attempt to crack down on crime. The bill was later criticized for focusing on punitive measures and having a negative effect on African-American communities, although it passed easily enough at the time.
Schumer was also the leading sponsor of the Violence Against Women Act, which increased the number of services available to victims of violence and closed gaps in the justice system's response to domestic and sexual violence. He was also the leading sponsor of the Brady Bill, which made background checks a requirement for those purchasing firearms. Schumer sponsored the Hate Crimes Prevention Act, which gave the Justice Department a way to investigate and prosecute prejudice-based violence of any kind, and he co-wrote the Assault Weapons Ban, which outlawed 19 types of assault weapons. (The Assault Weapons Ban expired in 2004 after Congress failed to renew it.)
"We needed a sharper, bolder, stronger economic message and we needed to let Americans understand what we all believe: that the system's not working for them and we're going to change it," Schumer said on Wednesday, according to The Guardian. "When you lose an election like this, you can't flinch."
Schumer joins a Democratic leadership team that now includes Sen. Joe Manchin, Sen. Tammy Baldwin, and Sen. Elizabeth Warren, according to The Los Angeles Times. Sen. Bernie Sanders, who ran against former Secretary of State Hillary Clinton for the Democratic nomination, was named caucus head of outreach within the leadership team.
"We're ready to stand shoulder-to-shoulder with Republicans, working with soon-to-be-President Trump on issues where we agree," Schumer told reporters on Wednesday, according to Reuters. "But we will go toe-to-toe against the president-elect whenever our values or the progress we've made is under assault."
With a minority leadership team now assembled in the Senate and led by Schumer, the Democrats are preparing for four years under President-elect Donald Trump's administration. The Democratic House minority leadership team is expected to be announced at the end of November.