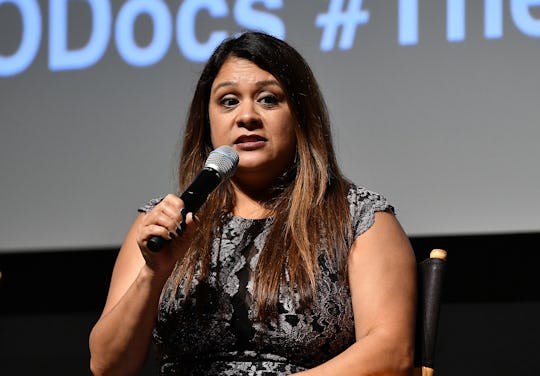 Slaven Vlasic/Getty Images Entertainment/Getty Images
Cindy Shank Is About To Come A Household Name Thanks To HBO's 'The Sentence'
A hold-over from the Reagan-era War on Drugs, mandatory minimum sentences have been shown, through research, to be ineffective at curbing crime, and devastating to communities — particularly, those of color. No other documentary captures that impact as clearly as The Sentence, which premieres Monday, Oct. 15 on HBO. So who is Cindy Shank, the subject of The Sentence? She is a mother of three who spent years in prison for a dead boyfriend's crimes, and lost her family in the process.
Shank's story starts in the early 2000s, when she was living with her then-boyfriend, who dealt drugs, in Lansing, Michigan. The mother of three maintains that she didn't sell drugs, but she was questioned about criminal activity in the house they shared at the time, according to The Marshall Project. No charges were brought against her, nor did law enforcement pursue the case after her ex-boyfriend was killed in an unsolved shooting in 2002. But five years later, after Shank had settled down and built a family, police came knocking on her door. Because of mandatory minimums, she was convicted and sentenced to 15 years for conspiracy and possession, soon after she gave birth to her third and youngest daughter, The Marshall Project reported.
The Sentence first started as a series of home videos Shank's brother, Rudy Valdez, filmed of his nieces to send to his sister in prison, according to The Marshall Project. But those videos began to reveal the devastating impact of mandatory minimums — not only on Valdez's family, but on families everywhere — and soon, Valdez became a filmmaker documenting the family trauma caused by the War on Drugs, The Marshall Project reported.
His documentary doesn't contest Shank's arrest or even the guilty verdict. Instead, it seeks to explain how, as research shows, mandatory minimum sentencing legislation is an ineffectual crime-fighting policy that needs to be reformed, Remezcla reported. As Valdez, who won the Sundance 2018 Audience Award for U.S. documentary, said during his speech at this year's film festival, according to Remezcla:
I felt like my community was underserved. I felt like my family was underserved. I kept waiting for somebody to help us. Somebody to step up to the plate. And when my sister was given a 15-year prison sentence for a first-time non-violent offense, six years after the fact, and I got that punch in the gut; I decided that I wasn't going to wait for somebody to give me a voice.
And how exactly did Shank's sentence destroy her family? She didn't get to see her daughters grow up, and her marriage to Adam Shank fell apart (though they remain close) because of a punishment she and her brother say don't match the crime, according to The Lansing State Journal. Through those home videos, Valdez captured his sister's struggle to parent from behind bars, and the pain and devastation felt in empty rooms and missed recitals. (Shank has been out for almost two years after receiving a rare commutation from President Barack Obama, The Lansing State Journal reported.)
Shank's story, though, is not unique. Hundreds of thousands of families, mostly of color, are experiencing the same trauma because of the failures of a four-decades long war on drugs. But, despite study upon study supporting comprehensive and holistic prison reform, those failed efforts are being renewed under the Trump administration as the country grapples with a deadly opioid epidemic. Which begs the question: How many more families are going to be destroyed until we learn our lesson?