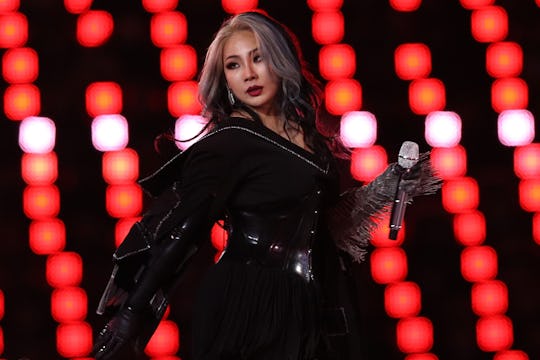 Maddie Meyer/Getty Images Sport/Getty Images
Meet CL, The K-Pop Superstar Performing At The 2018 Winter Olympics Closing Ceremony
The 2018 Winter Olympics have officially come to a close, with the final ceremony having taken place on Sunday, Feb. 25, bright and early over here in the United States. Spectators from around the world have been enjoying the athletic events and are obviously sad to see it all end, but the closing ceremony finished it off with the best performances and blessed us all with some new obsessions. Like, CL, the closing ceremony performer who stole the show on Sunday. But who is she ? CL is a well-known artist across Asia, but given her performance on Sunday, it's likely she'll gain an even bigger international fanbase.
CL is actually a stage name, it turns out. The performer's real name is Lee Chae-rin, according to HollywoodLife.com, and she's been performing since 2009 when she was part of the girl group, 2NE1. The group split up in 2016, and CL has been rocking out on her own since. CL was actually the lead singer of the girl group, and she also rapped while she was part of 2NE1. Truly, the 26-year-old has had her fair share of success, and her performance on Sunday was highly-anticipated.
"CL grew up in Japan and France," according to HollywoodLife.com. "She trained at JYP Entertainment, then joined YG Entertainment." And with 6.7 million Instagram followers, it's clear that if you don't know who CL is now, you will.
Seriously, CL has some quality bops, and she isn't afraid to hold back. Really, CL has been breaking records since her girl group days, even before she went solo. According to a January 2017 CNN profile on CL, 2NE1's "2014 album Crush became the best-selling and highest-charting Korean album in US Billboard 200 history." Now, that's some serious talent right there. But that doesn't mean that CL isn't without her naysayers.
As anyone in the public eye knows, haters are kind of just part of the package deal that comes with being famous. Even though they aren't fun to deal with, CL told CNN that she doesn't really mind them:
These days, I mean my fans are internet kids. So they're everywhere ... I'm happy you know, if I can inspire them, or even if they hate me. It takes so much more effort and energy to hate something or someone or anything so, I appreciate the hate!
That's a pretty good attitude to have, right?
At the closing ceremony, CL performed her hit song, "Bad Girls," and so many people were talking about it. Considering the fact that she has worked with producers like Skrillex and Diplo, it makes sense that CL's bops would be a smash hit with an international audience. I mean, I think everyone can get down to that jam, and that's CL's ultimate goal. Because even though she's a huge star in Asia, she's clearly on her way to taking over other continents, too.
Of course, taking on the American music scene, for example, is no joke, and CL is also aware of that. In her CNN interview, she explained that she knows becoming a musical sensation in the United States won't happen overnight. "I feel like I put so much energy and time into it that I, I'm going to, I have to do it. I think it's also about how you do it and what the message is and who I represent and who I am. So I want to do it right, and that's why it's taking so long," she told CNN.
And after her performance at the closing ceremony, it's pretty clear that Lee Chae-rin, or CL, is so much closer to becoming a household name, something the South Korean star has been working towards for years and no doubt deserves.
Check out Romper's new video series, Romper's Doula Diaries:
Watch full episodes of Romper's Doula Diaries on Facebook Watch.