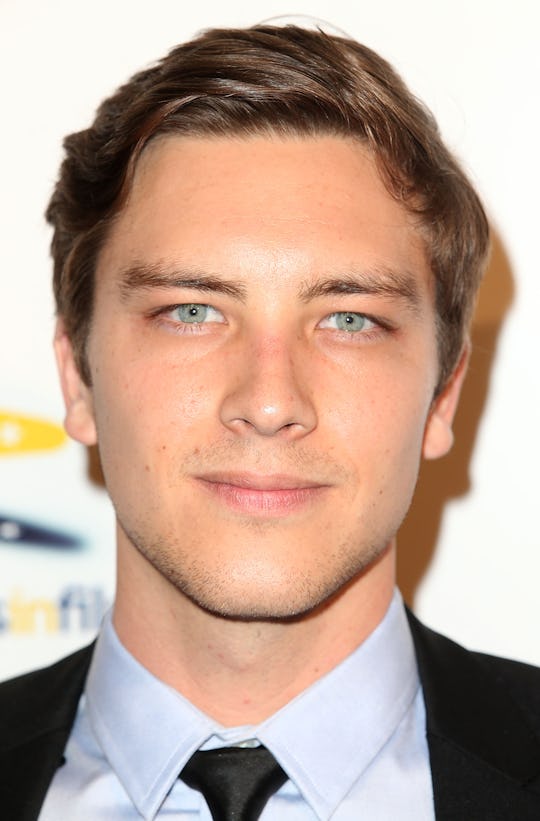 Frederick M. Brown/Getty Images Entertainment/Getty Images
Cody Fern Is Ryan Murphy's New Villain On 'American Horror Story: Apocalypse'
The new season of American Horror Story is here, and fan favorites like Sarah Paulson, Jessica Lange, and Emma Roberts will be reprising their roles from previous seasons. But a new series cast member, Cody Fern, is set to revive the role of Michael Langdon —last seen as a child on AHS: Murder House. But who is Cody Fern, and what other projects have you seen him in?
Cody Fern is a 30-year-old Australian actor who was last seen in Ryan Murphy's American Crime Story: The Assassination of Gianni Versace. After casting Fern as David Madson in American Crime Story, Murphy, — also the co-creator of AHS — revealed Fern's new role in a July tweet, writing, "Excited to announce Cody Fern will be playing the role of Michael Langdon in American Horror Story: Apocalypse." Fern also played Justin Kirk and Jennifer Garner's son in The Tribes of Palos Verdes, a drama based on a Joy Nicholson book about a family that moves to suburban California. He will also work alongside Robin Wright in the final season of House of Cards which premieres in 2019, but details of his character haven't been released yet.
With regards to his background, in an interview with Tracking Board, Fern revealed that he was born and raised in a small town in rural Australia and initially had no plans to become an actor. "I did a degree in commerce, and then I segued into psychology," he explained. "I thought for a time that I was going to be a therapist, and that could kind of numb, to a certain extent, my desire to be an actor, but I couldn't get away from it." He told the outlet that he eventually caved into his inner desire to become an actor, and "joined the circus" when he was 24.
Fern explained that he turned down a lot of superficial roles in hopes of finding something with more dimension before landing the part on American Crime Story. "I think I was positive that the role was going to go to somebody in the Ryan Murphy canon, I just never assumed that it was going to be me," Fern told Tracking Board. "Ryan was kind of instantly like, 'it's Cody,' and three weeks later I was filming. It's such intense material, so it was just a real opportunity to dive in. But from his end, I'm not so sure how he came across me. It was a wide casting call, and they were just looking for the right person. I'm just grateful that it was me."
Murphy has been known to cast actors from his previous projects — AHS alone features actors from Glee, Scream Queens, and American Crime Story — so it's no surprise that he chose Fern to play the villain on the new season of AHS. When talking Collider, Fern discussed how much he enjoyed working with Murphy, calling him a "genius" who puts a lot of trust and faith in his actors, while hiring the best possible production team. "You meet Ryan, and you realize that not enough is said about how kind, how generous and how down to earth he is. He's this mythological figure," he told the outlet. "When you meet him and you get to work on one of his shows, you're already bringing everything inside of you — all of your skill, all of your talent and all of your willpower — because you're working with Ryan Murphy and you know he's the very best."
Fern's role in American Horror Story this season is far different from his role in American Crime Story, where he played an innocent murder victim. In AHS: Apocalypse, Fern is playing Vivien Harmon and Tate Langdon's half-human-half-ghost child, who was foreshadowed to be the Antichrist in AHS: Murder House. He is seen with icy-blue eyes while being hailed as Satan by Kathy Bates in the trailer for the new season. According to FX, Apocalypse is bringing together characters from Murder House and Coven to usher in the end of the world, and will feature familiar faces from past seasons including Billy Eichner, Connie Britton, Lily Rabe, Taissa Farmiga and Dylan McDermott.
American Horror Story: Apocalypse premieres on Wednesday, Sept. 12 on FX.