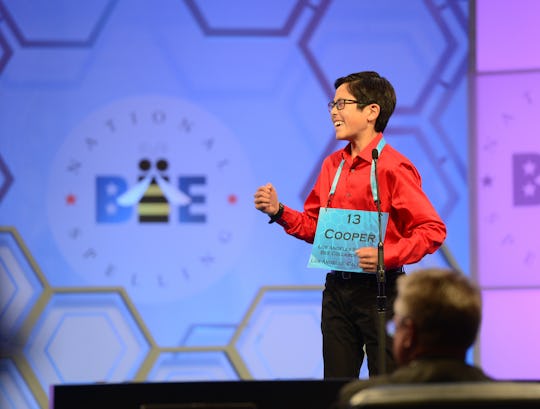 Mark Bowen/Scripps National Spelling Bee
Who Is Cooper Komatsu's Grandfather? Robert Rosenberg Is A Scripps Spelling Bee Alum
Cooper Komatsu finished ninth out of the ten kids competing in the Scripps Spelling Bee finale on Thursday night, but it appears he's not the only smarty-pants in his family. The precocious 8th grader has spelling in his genetics. Cooper Komatsu's grandfather, Robert Rosenberg is a Scripps Spelling Bee Alum who competed in the 1955 national spelling bee contest himself, and on Thursday night, he was there to support his grandson as well.
The 13-year-old was taken out of the contest for misspelling "illicium," but he still won the night with the audience. He received a standing ovation as he smiled and walked off the stage. The lucky kid doesn't go home empty handed; Kamatsu gets to take home $2,000 cash and other prizes. Ninth place isn't looking too shabby, huh?
Komatsu's maternal grandfather Robert Rosenberg competed in the 28th Annual Bee in 1955. Komatsu, himself, is no stranger to the national spelling stage; he competed in the Bee last year.
The Culver City, California middle schooler isn't the only legacy to compete in the Bee this year. Speller 57's, Mira Dedhi who did not make it to the final round, mother competed in the 1988, 1989 and 1990 contests.
The 89th Scripps National Spelling Bee is being held in National Habor, Maryland. An original field of 285 spellers was eventually narrowed down to the top 10 who are competing in tonight's final.
The bee's mission is "to inspire children to improve their spelling, increase their vocabularies and develop correct English usage that will help them all their lives," Paige Kimbel, the Scripps' executive director and 1981 winner, said in a press release.
The Scripps Spelling Bee is limited to students from first to eighth grade and this year's contestants' ages range from 6 to 15 years old. The champion wins $40,000 from Scripps, a $2,500 U.S. savings bond, a complete Merriam-Webster reference library, and $400 in Encyclopaedia Britannica reference works plus a three-year membership to Britannicca Online Premium. The winner also gets a free trip to New York City to appear on Live with Kelly.
Whoever wins on Thursday, it's pretty much a guarantee that the tradition of spelling giant words with ease won't end after tonight.