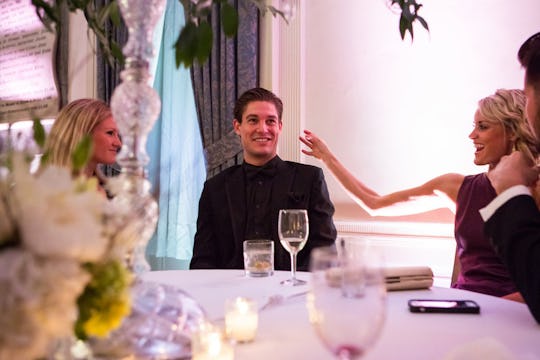 Paul Cheney/Bravo
Who Is Craig Conover's Girlfriend Naomie Olindo? The 'Southern Charm' Star Has Changed
Once known as the Playboy on Southern Charm, Craig Conover has changed. Season 3 will prove just that, but since you might not want to wait for an entire season to air, allow me to fill you in. Craig has a girlfriend on Southern Charm. Like, a real-life girlfriend that he travels with and sees regularly. So regularly, that the two have an actual online presence together. What I'm trying to say is: Craig Conover is a changed man, and you might not recognize him. So who is this woman that has changed our favorite want-to-be-lawyer-who-never-wants-to-work? That would be Naomie Olindo, Craig's girlfriend on Southern Charm.
There's not that much to know about Naomie — not to say she isn't interesting — but her internet presence reads like a very normal person's internet presence. If we're really interested in facts about her, we can talk extra curricular activities in high school (volleyball, according to Max Preps), but that's probably not the type of information you're looking for. Personally, I've got to say, it's refreshing to see a normal gal find love with a reality star.
In addition to possibly playing volleyball in high school, Naomie seems to have once worked in real estate. While she is no longer listed on Handsome Properties' website, she was listed on a partner's website as an agent. Her name is also attached to a profile on an acting talent website, although no photo is provided. She also links to an animal society on her Instagram, so it would seem that that is something she is passionate about.
Now, it seems she is busy traveling the globe with Craig. The two have posted photographs of themselves in London, Paris, and Bangkok to name a few places.
The good news is, it seems that Naomie gets along very well with Craig's friends, as she has been photographed with other cast members of the show, as well as dressed for the '70s for Shep Rose's "Shepic" birthday party.
So, are these two going to last? We'll have to watch and find out, but it definitely seems like they're on the right path. On Craig's birthday, Naomie posted a Snapchat screenshot of the reality star with the loving caption:
"HAPPY BIRTHDAY to my [Craig Conover], who makes me laugh at him almost as much as I laugh with him. The last year has been filled with nothing but adventures, serious happiness and ~luv~ Here's to many more years of me convincing you you're not that cool... and you letting me. I love you!!!"
I'd say if he's OK with her posting the photo above, then they're definitely going to go the distance.