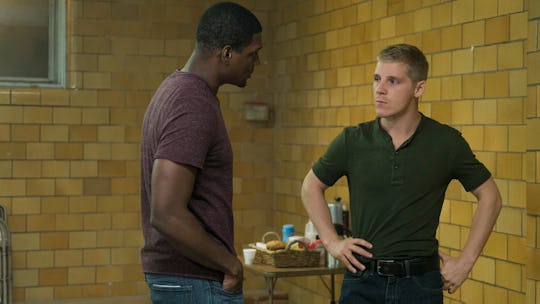 Nicole Rivelli /Netflix
Frank Reunites With An Old Friend On 'The Punisher'
When Frank Castle was first introduced in Daredevil, there wasn't much known about him or his past. Besides the fact that his family was killed and he was in the army, Frank's background was a bit of a mystery. However, in The Punisher, it's all about Frank and the show seeks to introduce more facets of his past as well as some of Frank's old friends. One of those old friends is Curtis, but who is Curtis on The Punisher? Warning: Episode 1 spoilers ahead!
Curtis, played by Jason R. Moore, leads a military group therapy session, which Frank didn't join but instead simply listened in on from outside during the first episode. Once everyone left, Frank revealed himself to Curtis and the two chatted and caught up. Apparently, Curtis was in the military with Frank, though he wasn't with Frank in Afghanistan, a time that Frank called "different" than his time working with Curtis. This seems to indicate Curtis isn't a part of the conspiracy that Frank will be going up against this season... at least for now.
Curtis and Frank are obviously close, as Frank shared that he read the book Curtis had given him to help him get through the war, the death of his family, and everything else that Frank has endured over the years.
Curtis is also well aware of the fact that Frank is the Punisher and that he killed everyone that was involved with the deaths of his wife and children. Curtis even mentioned that he would've joined Frank in the killing if he'd asked, which shows just how much a true friend Curtis is. That being said, he also wants Frank to move on with his life. Curtis believes that Frank did all he could to do to right the wrongs that were done to him and now all Frank is doing is "punishing himself."
Frank now has a new identity since "Frank Castle" is dead, and is currently going by the name Pete and working a construction job. Curtis' hope is that Frank can one day lead a normal life, though that definitely seems impossible. He also casually mentioned that he has a prosthetic leg, due to an injury he suffered in the war. It's possible this injury was the reason he wasn't on that second mission to Afghanistan with Frank.
Thus far, it's clear The Punisher will heavily look at the effects of war on veterans and how it impacts them in the long term. During Curtis' therapy session, the group discussed how the government doesn't take care of them after they return from war and one vet even suggested that the war will one day be in America and that's when they'll be needed again.
The show displays the various ways in which veterans adjust to life back home. There's Frank who became the Punisher, Dinah, who was forced to come home and now works for Homeland Security, and there's Curtis, who at least for now, seems the most well-adjusted. That being said, though Curtis may look fine, he did make it clear to Frank that he often still thinks about everything that happened while he served and that's something that never really goes away. Different than Frank though, Curtis said his conscience is "now clear."
It'll be interesting to see how Curtis and Frank's friendship continues into the show, especially now that Frank has returned to killing. Most likely, Curtis won't approve and this could potentially cause a rift in their friendship down the line.
Check out Romper's new video series, Romper's Doula Diaries:
Watch full episodes of Romper's Doula Diaries on Facebook Watch.