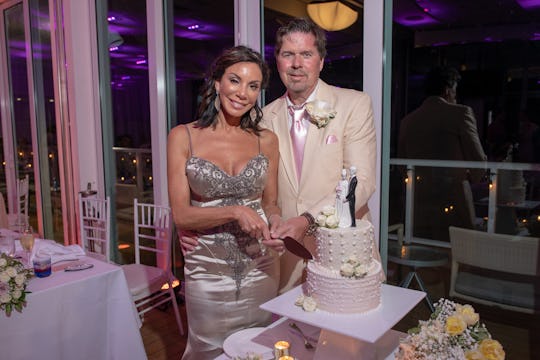 Rodrigo Varela/Getty Images Entertainment/Getty Images
'RHONJ' Star Danielle Staub & Marty Caffrey Were Married For Three Months
In the months between seasons ofThe Real Housewives of New Jersey, Danielle Staub has been on quite the romantic journey. She became engaged last year, but ended up getting married and divorced within three months. Her personal life is sure to be a topic of discussion when Season 9 debuts on Bravo on Nov. 7, but who was Danielle Staub's fiancé?
Danielle announced her engagement to Marty Caffrey in May 2017, making him the twentieth man who had proposed to her over the course of her life (though she'd been married three times before Caffrey). They had been dating for a year at that point, though Caffrey wasn't in the public eye much aside from his relationship with Danielle. According to Life and Style Magazine, Danielle described Caffrey as a "South Jersey boy" and "Wall Street guy," but was otherwise thin on details.
They were married almost exactly a year after Caffrey popped the question, in May 2018. People reported that the beach wedding was captured by Bravo for Season 9, so it seems like fans will get to know what it was like to be a guest at Danielle's nuptials. They might also have an inside look at what led Danielle and Caffrey to divorce.
Trouble arose not long after the wedding. In July, Danielle's rep told E! News that Danielle was "having some difficulties with her marriage right now," though she was "hoping everything will work out." Caffrey confirmed that they weren't getting along in an interview with Us Weekly, alleging that Danielle didn't have a relationship with his children and made it difficult for him to let them into his life, too. He also said that she didn't invite his family or friends to events like her birthday party. He called her "arrogant, disrespectful, presumptuous, and entitled."
In early August, Danielle's rep released another statement, this time reported by Bravo:
Danielle is very disappointed that Marty spent time composing a three-page statement for the media but won't sit down and talk with her about the situation. She is also disappointed that he seems much more concerned about press coverage than he does about his marriage.
Caffrey had filed for divorce by the end of the month, according to E! News. An incident allegedly occurred at their house that led to both getting temporary restraining orders against the other, but those were dropped after the divorce proceedings began.
Danielle discussed the split during an appearance on The Wendy Williams Show, saying:
It's funny how I saw certain things happening, but you just believe, especially with the perception around us, getting engaged would make it better … getting married would make it better. It doesn't get better, ladies. If it's falling apart, it's broken.
Even though she and Caffrey were separating, Danielle told Us Weekly that they were still living together as of October. She referred to them as "housemates," not roommates, and explained that they barely spoke even though they were in the same house. It seems like a difficult situation that Danielle is still navigating.
Viewers may see the start of Danielle and Caffrey's marriage on RHONJ, but it sounds like they'll be seeing the end of it, too.