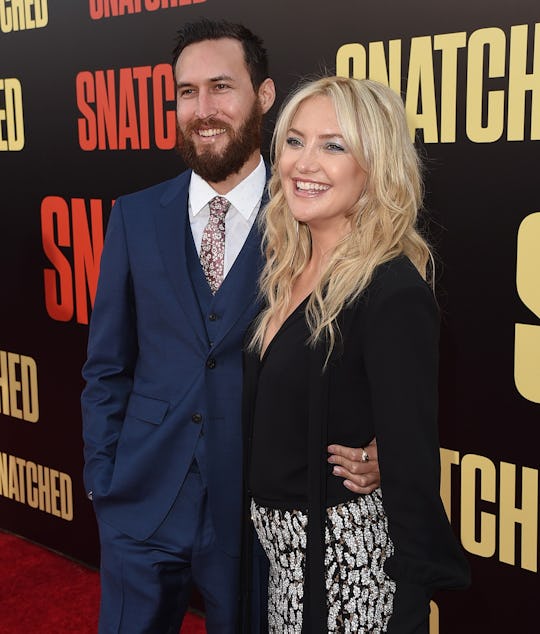 Kevin Winter/Getty Images Entertainment/Getty Images
Everything You Need To Know About Kate Hudson's Boyfriend, Danny Fujikawa
Actress Kate Hudson is only a month away from welcoming her third baby— and first daughter — into the world, and with only a few weeks to go before their lives become focused on diaper changes and 3 a.m. feedings, she and her partner, Danny Fujikawa, seem to be making the most of their alone time. The couple recently enjoyed a getaway with friends at the Ojai Valley Inn & Spa in Ojai, California, according to People, and in June, they also took a romantic babymoon to Italy. But who is Danny Fujikawa? Kate Hudson's boyfriend hasn't spent a ton of time in the spotlight, but after the two announced on Instagram in April that they were expecting a baby girl together, Hudson has started to open up about their super-sweet love story.
Hudson, who is already a mom to 14-year-old son Ryder and 6-year-old son Bingham from previous relationships, maintained a pretty low profile on social media throughout her early pregnancy. But after sharing the exciting news with a video of her family gender reveal, the mom-to-be also started to share details of her relationship, too. And though they've only been dating for over a year, it turns out that Hudson and Fujikawa have known each other for much, much longer.
Hudson told The Talk earlier this year that Fujikawa is actually her "best friend's stepbrother," according to People, and as a result, they've actually been friends for about 15 years. Yet the timing was never quite right in the past for them to get together: for one, 32-year-old Fujikawa is seven years young than she is, and in previous years they were in different places in their lives. In fact, in a Dec, 2017 Instagram post, Hudson revealed she'd actually first met Fujikawa when she was "enormously pregnant" with Ryder.
Getting into a relationship with someone you've been friends with for so long definitely has its benefits though: Hudson said they "kinda skipped through the part of knowing what the hiccups were. You kinda skip the part of going, "Oh, you're like that?'" And judging by their lovey-dovey Instagram posts, it definitely sounds like they're a good match: in a birthday post for Fujikawa in June, Hudson called him the love of her life.
In addition to being a close family friend, there are other things worth noting about Fujikawa. For one, he's a musician: according to Harper's Bazaar, Fujikawa is the former lead singer and guitarist for the folk rock band Chief, and he's also the founder of his own record label, Lightwave Records. And, well, that puts him in pretty good company — Ryder's dad, Chris Robinson, is the former front man for The Black Crowes, while Bingham's dad, Matthew Bellamy, is the lead singer of Muse.
It turns out though, that Hudson's first date with Fujikawa kind of came as a surprise. On Instagram, she admitted that, since they'd known each other for so long, she didn't actually expect that when their friendship would take a turn for the romantic during a Dec. 2016 hike. And even though she said "it took months for him to make a first move," it sounds like it was definitely worth waiting for: she wrote, "on our 15th year of knowing each other we were able to open our hearts to each other to feel so much pure love and it's been truly incredible."
As for impending fatherhood? It sounds like Fujikawa can't wait. In April, Hudson's brother, Wyatt Russell, told People that while he thought that "in some part of every man's brain you're like, 'I'd love to have a little me,'" having the chance to bond with Hudson's niece helped Fujikawa really look forward to the idea of having a daughter. Russell said, "when he met my brother's little girl Rio, who's the cutest thing in the entire world, she made him be like, 'Okay, I want a girl.' So they're really excited."
Yet, apart from Hudson's public comments, and their too-cute social media posts, it seems pretty clear that Fujikawa prefers keeping his private life to himself, and that's pretty admirable. But since they make such a sweet couple — and will no doubt have one seriously adorable baby — let's hope that the family Instagram posts will continue.