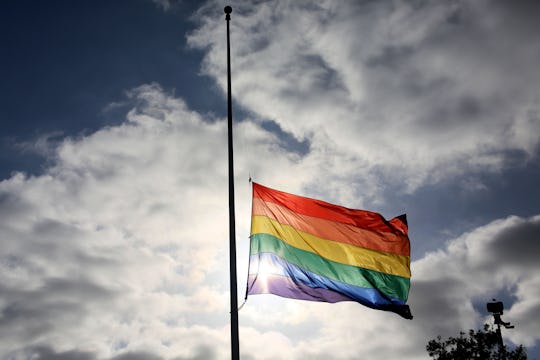 SANDY HUFFAKER/AFP/Getty Images
Who Is Darryl Roman Burt II? He Had A "Big Personality" That Loved Ones Won't Forget
On Monday, the nation is still grappling with the aftermath of the deadly shooting in an Orlando LGBT nightclub early Sunday morning, where 29-year-old Omar Mateen opened fire on a crowd of more than 300 clubgoers, killing 49 people before being killed himself by law enforcement. Details have begun to emerge about each of the victims who were killed. One of of the victims identified on Monday was a 29-year-old university financial aid officer. Who is Darryl Roman Burt II?
Burt was among those 49 clubgoers killed in the early hours of Sunday morning. The club, Pulse Orlando, is an extremely popular dance club and gay bar, according to the club's Yelp page. On Saturday night, Pulse Orlando hosted a "Latin Night" event, which drew a large number of Orlando's Latino and Hispanic LGBT community; many of the victims were young Hispanic and Latino men.
It is unknown whether or not Burt was at Pulse Orlando for the Latin Night event — but his death is already being felt by those who worked with him. By all accounts, Burt seemed to be a hard working young professional with a promising career ahead of him.
Burt was a financial aid officer at the Jacksonville, Florida, campus of Keiser University, a private, non-profit institution with several campuses across Florida. Speaking to The Florida Times-Union, Keiser University Jacksonville president Lisamarie Winslow said:
We are very saddened to be dealing with this loss. He was one of our family members and team members and he was very respected as an employee and a friend. He always had a smile on his face and was a very nice guy. He definitely leaves an impression and had a big personality and he is missed.
Jenna Bourne, a reporter for Orlando local news stations CBS47 and FOX30, tweeted on Monday, "I walked in @KeiserU & saw employees comforting each other." Bourne also spoke with Winslow, who remarked that Burt was "known for [his] energetic personality" and his love for "colorful bow ties." He was a member of a bow tie enthusiasts Facebook group, according to Burt's own Facebook profile.
According to his LinkedIn profile, Burt had been at Keiser University for just over a year. Previously, he worked as a manager at both McDonald's and clothing retailer Forever 21. Burt also recently earned his master's in Human Resources Management from Keller Graduate School of Management of DeVry University. As a young professional, Burt was a member of the Jacksonville Jaycees. On a post to their Facebook page, the group expressed its sadness over Burt's death and announced that at its Monday night meeting it will solicit ideas for a fundraiser "benefitting the loved ones Darryl has left behind."
Law enforcement officials have identified 48 of the 49 victims of the Orlando shooting. Burt's loss will be felt across many communities, as will the loss of so many others killed in Sunday's shooting. We can only hope that, by sharing the victims' stories, their loved ones may find some peace after such a senseless tragedy.