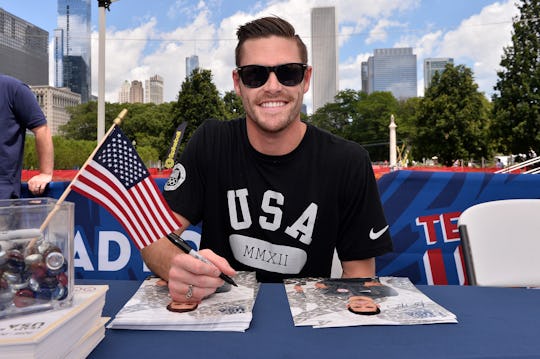 Daniel Boczarski/Getty Images Sport/Getty Images
Who is David Boudia? The New Dad Is Ready To Dive
The Olympics begin next week and Team USA is ready to start collecting gold medals. One of my favorite things to watch is diving, because whoever can do that is a superhero in my eyes. And the United States has a good chance at getting some high marks with one of their star divers, so knowing who David Boudia is essential if you want to get your Olympics on properly.
Boudia, as it turns out, already has some experience at the Olympic level. In 2008, he finished 5th in the 10-meter synchro and 10th in the 10-meter individual. In 2012, he kicked it up a notch and earned a gold medal in in the 10-meter individual and a bronze in the synchro. At those rates, it's likely he'll kick some butt again in Rio.
Boudia is 21 years old and lives in Indiana — though he was born in Texas, according to his official bio — and trained at Purdue. At the trials this year, it was clear that he wanted to go all the way. At the trials, NBC diving analyst Cynthia Potter said Boudia "didn't have to worry, he's diving by himself out there." Which is a good thing in diving, it seems. He qualified with 527.15 points, which is just a little less than the 568.65 points he earned at the 2012 London games.
Boudia also has a book called Greater Than Gold: From Olympic Heartbreak to Ultimate Redemption that comes out on August 2, just in time to get you all revved for for #TeamBoudia. In the book, he talks about his passion for diving and his road to the Olympics. He writes about growing up, "I've tasted a lot of what the world will say is satisfying," but there is something "more than that" — and that "something" for Boudia is his faith.
On social media, Boudia tweets often about his faith and the road to the Rio games. He's also a father to his 18-month-old daughter, Dakoda. He said that this year, the games will mean even more knowing that his daughter will be watching (even if she'll probably need some help paying attention to her dad and not her snack). She's also his motivation to go strong.
"Before I go to train I normally do a little stretching routine in the house, and I try to involve Koda with that," Boudia said to Active Kids. "I put her in front of me, and we do neck rolls and arm swings. It normally turns into her trying to tackle me or something like that."
With his wife, daughter, and all of America watching, Boudia has a busy (and exciting) few weeks ahead of him.