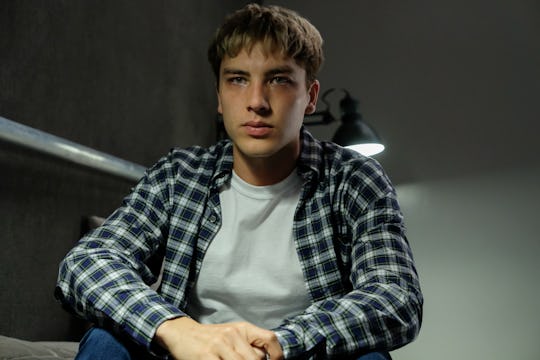 Ray Mickshaw/FX
David Madson Was An Important Figure In Andrew Cunanan's Life
The second season of American Crime Story has embraced a more non-linear style of storytelling, moving backwards in time from Andrew Cunanan's most famous murder to the four that preceded it. In "House by the Lake," viewers will be introduced to David Madson — but who is David Madson on The Assassination of Gianni Versace?
David Madson was Cunanan's second reported victim, as well as his ex-boyfriend and possibly the only man Cunanan ever claimed to really love. Time reported that Cunanan referred to Madson as "the love of my life" and it didn't seem like the torch he was carrying was extinguished by their breakup. According to Maureen Orth's book about the Cunanan killings, Vulgar Favors, Madson and Cunanan met in San Francisco in 1995 and embarked on a long-distance relationship because Madson lived in Minneapolis and Cunanan in San Diego.
They connected over a shared love of the finer things in life, with one of Madson's ex-boyfriends, Robbie Davis, telling Orth, "David's weakness vis-á-vis Andrew was that he was dazzled by his materialism." Cunanan presented himself as wealthy and cultured, which seems to have appealed to Madson. However, Cunanan was also lying to Madson by not revealing the truth of how he had money, which was that he was living with an older wealthy man named Norman Blachford back in California.
Madson was an architect, and described in Vulgar Favors as a hard worker and "the quintessential Boy Scout" during his childhood in Wisconsin. His boss John Ryan told Orth, "David was an absolute joy to be around and an immensely talented person, on the precipice of becoming a leading designer in the world in his field."
Eventually Madson broke it off with Cunanan, but the two remained on friendly terms. According to Vulgar Favors, Cunanan would visit Madson regularly (especially because Cunanan's best friend and later victim Jeff Trail also lived in Minneapolis) and dog-sit Madson's dalmatian Prints.
In late April 1997, Cunanan came to stay for the weekend to see both Trail and Madson, though he stayed at Madson's apartment. He had planned a meeting with Trail at a nearby café, but it seems that Trail went up to Madson's apartment, where Cunanan bludgeoned him to death with a claw hammer. It was unclear whether or not Madson was present in the apartment at the time.
Madson did not show up for work the Monday after the murder, but he was spotted by neighbors in the area on Monday and Tuesday, as reported by Orth. However, when a co-worker came to check on him, the body of Jeff Trail was found in apartment rolled up in a rug. Because the body was found in Madson's apartment, investigators initially suspected that Madson could have killed him.
It was clear the dog had been fed and walked for at least two days following the murder, according to Orth, because it had not had any accidents in the apartment. That meant that Madson and Cunanan had stuck around for a little while before fleeing. Despite the fact that family and friends did not believe Madson was capable of the crime, Minneapolis Sergeant Bob Tichich explained to Orth:
I first thought Madson because he hadn't showed up for work. There's all this physical evidence. They tramped around in blood and had taken measures to conceal this body. You have to believe Andrew was able to control Madson for extended periods of time without the possibility of escape.
On May 3, 1997, Madson's body was found on the shores of East Rush Lake in Chisago County. He had been shot three times with Jeff Trail's gun and his red Jeep was missing, taken by Cunanan. Cunanan would later use that same gun to kill William Reese, Gianni Versace, and himself. It was difficult to pinpoint time of death, and the medical examiner Dr. Lindsey Thomas eventually determined that Madson had died on Friday, May 2, which meant Madson had been in Cunanan's company for almost a week. However, that might be disputable.
Orth reported a parking stub later found in the Jeep that indicated Cunanan was in Chicago (where his third murder occurred) on the Wednesday following Trail's murder — days before Madson's official time of death. While he could have been traveling back and forth with Madson in tow, the uncertainty of Madson's time of death throws the timeline into question. Dr. Thomas told Orth:
There really is no good way [to determine exact time of death]. Quincy could do it on TV, novelists can do it. In all honesty, the most accurate is when was the person found? When was the person last seen reliably? It's so dependent on what the weather's like; that's the trouble. If it's warm, the body decomposes quickly; if it's cold, somebody can stay fresh-looking for days. It depends on the ground cover and the position of the body.
It seems Madson was discounted as a suspect because Cunanan's continuing crime spree made it clear that he was the primary perpetrator, and Madson was cleared by police officially in 1998, according to the Chicago Tribune. CBS Minnesota reported that police believed Cunanan had been holding Madson hostage in the aftermath of Trail's murder.
There is so much that is impossible to know about Madson's final days, but it seems like The Assassination of Gianni Versace will attempt to answer those questions.
Check out Romper's new video series, Romper's Doula Diaries:
Watch full episodes of Romper's Doula Diaries on Facebook Watch.