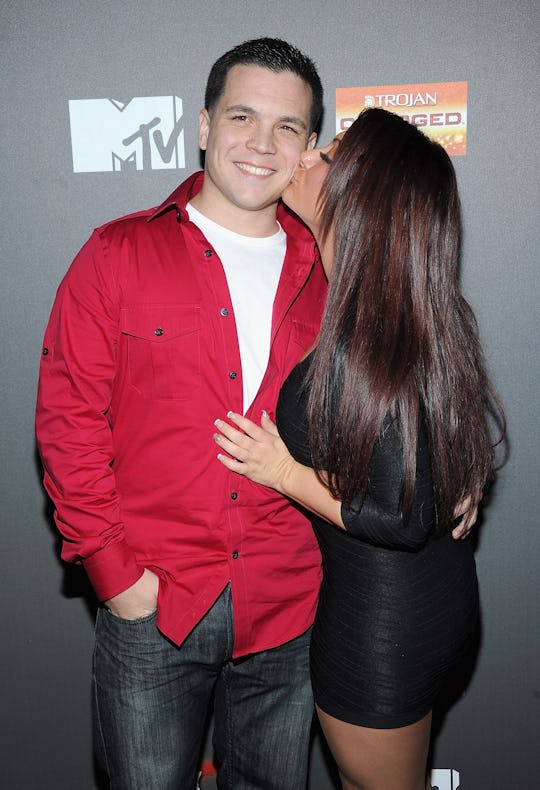 Jamie McCarthy/Getty Images Entertainment/Getty Images
Here's What You Need To Know About 'Jersey Shore' Star Deena's Husband
Fans have watched the Jersey Shore fam go from party kids to parents and it has really been fun to watch. For example, fans couldn't have been more thrilled with Deena Cortese's recent pregnancy announcement. Deena seems to have made a beautiful life for herself with a supportive, loving man by her side. But who is Deena's husband on Jersey Shore? If you're a fan of the show, you may remember Christopher Buckner as Deena's boyfriend, because he's made a few cameos over the years.
Deena and Chris first met back in 2011, and according to their wedding website, it was all by chance. After seeing each other in a bar with mutual friends, the two began dating. Chris even made a couple appearances on the Jersey Shore as Deena's boyfriend. Eventually the couple bought a home together, and when Deena's dad passed from leukemia in 2016, Chris stepped up to be a "rock for Deena and her mother."
A few months later, Chris surprised Deena with a vacation to Mexico where he popped the question. In one Instagram post from Mexico, Deena wrote about how happy she was to be engaged, and how Chris had picked the perfect time in her life to propose.
"This year has been really hard for me and my mom..I honestly haven't felt 100% happy since my dad passed away ..until this weekend," wrote Deena. "Chris couldn't have picked a better time to do all of this especially with the holidays coming up and me and my mom being super sad about not having my dad here. I'm glad we are able to end the year with a happy moment."
Chris and Deena were married in October 2017, at Laurita Winery in New Egypt, NJ. The whole Jersey Shore cast made it to the wedding (minus Ron). In a group photo of the crew on Instagram Deena wrote, "so happy they all came out to celebrate with us .. love you all so much!"
While Deena keeps busy with filming the show, according to InTouch Weekly, Chris works for a souvenir magazine publishing company called Professional Sports Publications. Deena will be returning on Season 2 of the Jersey Shore Family Vacation, but she probably won't be partying as hard this time around. The couple recently announced Deena's pregnancy on their Instagram pages this past July.
"Thank you everyone for all the love," Chris captioned on a photo of their pregnancy announcement. "We are finally starting the family we've always wanted and you're the only one I want to share this blessing with. Love you babe @deenanicolemtv."
Deena, who has been vocal about wanting to have a little meatball of her own, posted her own series of pregnancy pics on Instagram, writing that she was excited to welcome and spoil her "sweet little boy" in December, for whom she has already picked a baby name, Christopher John.
She's also been pretty great at keeping fans up to date with her pregnancy journey, and recently posted a picture collage of her baby bump at 14, 16, and 20 weeks. "I can't believe we're already halfway there," she captioned the photo. "Although the first trimester was rough and we hit a little bump at the beginning of our second, this experience is amazing and I wouldn't change it for the world and in a little more then 4 months it'll all be well worth it."
Fans couldn't be happier for Chris and Deena, and it will be exciting to see her reveal her pregnancy news to her Jersey Shore fam on the show. Season 2 of Jersey Shore Family Vacation premieres on Thursday, August 23 at 8 p.m. ET on MTV.