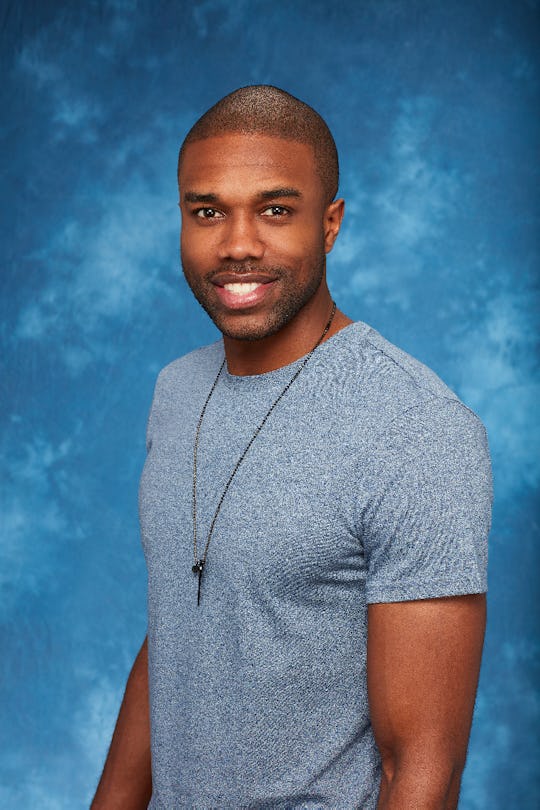 ABC/Craig Sjodin
DeMario May Have Ulterior Motives On 'The Bachelorette'
It's almost summer, which means viewers will be drinking rosé instead of red or white wine when they watch television. It also means that The Bachelorette will be the show they're drinking to; considering how record-breaking this season already is, Bachelor Nation can't wait. Host Chris Harrison announced the contestants vying for Rachel Lindsay's heart on Facebook Live, and one, DeMario, particularly stuck out. Viewers have seen DeMario before on After the Final Rose, and Harrison made an interesting hint about him on Facebook. Who is DeMario on The Bachelorette? He may not be here for the right reasons.
DeMario was actually the first contestant Rachel met way back in March on Nick Viall's After the Final Rose. Harrison surprised Rachel by announcing her season was "starting then," and brought out four suitors. When DeMario arrived, he offered Rachel two tickets to Las Vegas and a ring — and told them they should just elope. DeMario immediately established himself as smooth, which is just how Harrison described him on Facebook Live. "DeMario's smooth... maybe too smooth," he hinted. That's not all: Harrison insinuated that DeMario's actually not on The Bachelorette to win Rachel's heart. "Maybe, just maybe he's not here for the right reasons. You'll find out very soon with DeMario."
What!? A contestant not here for the right reasons!? That's... typical of any season, as veterans of Bachelor Nation know. Considering DeMario has already made a suave introduction with Rachel on After the Final Rose, though, this is particularly interesting. Why would Harrison allude to DeMario's perhaps lousy intentions? This could be an indication that DeMario goes far enough in the competition and becomes this season's so-called "villain." The 30-year-old executive recruiter may appear to fall for Rachel at first, but his true self could come out as the episodes go on.
Rachel is a lawyer, though, so she may be able to sniff out if someone's trying to hide something. Harrison also could've dropped this hint to signal that DeMario messes up in a big way, and Rachel is onto his game. Or maybe he's just trying to throw us off.
This Bachelorette season is already different than all the others, as Rachel is the first black Bachelorette and this is the most diverse cast ever. Rachel may make an unprecedented move with DeMario — or with the contestants in general — to test their loyalty. Regardless, Harrison told Bachelor Nation about DeMario for a reason and they'll have to watch to find out why.