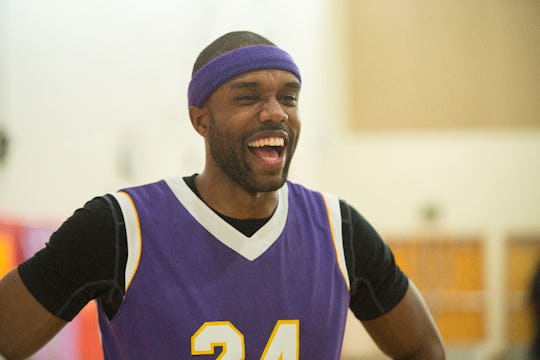 ABC/Michael Yada
DeMario Received A Shocking Surprise On 'The Bachelorette'
It's unavoidable in Bachelor Nation: someone, every season, is not here for the right reasons. Yes, a contestant doesn't go on this 30-on-one dating show with the hopes of marrying the lead after knowing them for two months. Shocking, right? Yet true. Sooner or later, these contenders are weeded out. On Monday night's episode of The Bachelorette, that happened in an explosive way: DeMario's ex-girlfriend showed up to a group date not just to confront him and Rachel, but to show her receipts! Who is DeMario's girlfriend, who surprised everyone on The Bachelorette? Lexi's not playing around.
Just when DeMario thought he was on top, this happens. He was in a basketball-themed group date — complete with Kareem Abdul-Jabbar — and after killing it on the court, Rachel took him aside. Little did he know that his apparent ex-girlfriend, Lexi, was waiting for him. Once he entered she said, "Karma's a b*tch isn't it." Oh boy. She claims that the two of them were in a relationship; when he went missing for a few days, he showed up on After the Final Rose meeting Rachel. Not only that, but DeMario apparently still has the keys to Lexi's apartment — and the last time he was over, they were together.
At first, DeMario tried to play off his and Lexi's relationship. He said they met "many, many times ago" and that this "personal stuff" wasn't for in front of the cameras. He said their relationship was "on again, off again" but Lexi swore (on her father's grave and her kittens) that they were together. Eventually, the truth came out — when Lexi showed Rachel her messages with DeMario. DeMario said he still had "some communication" with Lexi despite supposedly breaking it off, and going on After the Final Rose and The Bachelorette hoping to win Rachel's heart.
Rachel, being the strong, amazing person she is, was having none of this. DeMario said he wanted to be there and Rachel agreed, just not here for her. She then told him she's "gonna need him to get the f*ck out," and that was that. Once Rachel saw Lexi's receipts, it was over. There was a bit of foreshadowing of this last episode, when Whitney told Rachel that mutual friends said DeMario may be here for the wrong reasons. While disappointing, at least Rachel has a whole group of guys that are here for much better reasons — to be her husband.