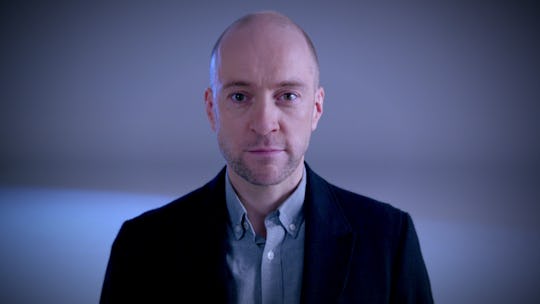 Netflix
The Controversial Host Of Netflix's 'The Miracle' Is Going To Blow Your Mind
In his new Netflix special, The Miracle, host and illusionist Derren Brown hopes to go even further than his controversial first Netflix show The Push — which asked whether ordinary people could be coerced into committing murder. Brown is well known in the United Kingdom but people stateside probably haven't heard much about him. So, who is Derren Brown and what can you expect from The Miracle?
Brown is an English mentalist and illusionist who has performed both on television and on stage for over 20 years. He rose to fame in 2000 with his British television series, Derren Brown: Mind Control, where he would read people's habits, mannerisms, and hidden tells and then convince them to believe and do crazy, over-the-top things. He's built his career out of making the impossible possible, and once even convinced The Late Late Show host James Corden to literally eat glass on TV.
It was his controversial televised Russian Roulette stunt in 2003 — in which Brown played Russian Roulette with a loaded gun — that really sprung him into the limelight and launched his fame and career. Viewers were understandably disturbed by the stunt and Brown caught quite a bit of criticism for it. But in an interview with the BBC Brown explained how the outrage helped his career. "It's the way it works, if you do anything that might cause offense to some people, it all helps for the show," he said. "The journalists all ring up, I'm not complaining, it gets me in the papers."
Obviously, Brown is a master at manipulating his own image, but he didn't get his start that way. While studying law and German at the University of Bristol, he started performing small magic acts around campus and in nearby bars and restaurants. In a 2008 interview with Your Local Guardian, Brown revealed that his inspiration to start doing magic came after watching a local stage hypnotist perform. Brown told the outlet:
"My first experience of magic was watching Martin Taylor, a stage hypnotist in Bristol while I was at university. I was obsessed with learning how to do it. Knowing that Martin also worked as a magician, and given that I had owned a few tricks when I was a kid, I bought a big bumper magic book and it built from there."
After seeing much success through television and stage, Brown brought his master manipulation to Netflix with The Push, in which a cast of over 70 people to try to convince an innocent and unsuspecting person to commit murder. In his new streaming special, Brown is bringing all of his greatest acts to the stage including hypnosis, disappearances, and even a little levitation. But rather than just being a variety magic show, in his primal style, Brown will use his skills of mind control to play with the audience's mind, and make them question their own inner feelings. In an interview with IndieWire, Brown noted that The Miracle may go a step further than The Push.
He told the outlet, "It's probably going to push a lot more buttons than The Push did in terms of the outrage that people will feel when they hear what it is." He continued by talking a little bit about how he formulates his shows. "Not everything is about causing controversy," he said. "That would be a very boring way to go. What I try and do is find a dramatic hook that's interesting, that would make you want to watch. But then also a good and intelligent reason for actually doing it. That's the formula, if there is one."
If you're ready for some psychological manipulation and magic, you can catch the premiere of The Miracle on June 22, exclusively on Netflix.