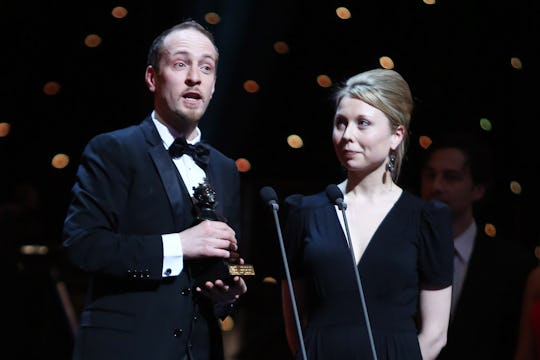 Tim P. Whitby/Getty Images Entertainment/Getty Images
Everything You Need To Know About Derren Brown Before Watching 'The Push'
The Push is an upcoming Netflix special that tries to discover if a normal person can be convinced to commit a murder. The experiment employs nearly 70 actors and one innocent bystander who has no idea he's being filmed or that everything around him is a carefully constructed lie. At the center of the machinations is Derren Brown — but who is Derren Brown from The Push? He has an interesting background prior to all of this.
Brown is an English mentalist and illusionist, though the biography section of his website has a slightly more grandiose (but nevertheless accurate) description of what he does. "Since redefining the genre of magic for intelligent, modern audiences," it reads, "his name is now synonymous with the art of psychological manipulation." As interested viewers will soon see in The Push, Brown seems to have a reputation for getting people to do things they might not otherwise have done.
Those stunts — which included a live game of Russian Roulette, convincing people to commit armed robbery, and apparently setting up his own zombie apocalypse — have made Brown famous. He's had a series of stage shows and television specials in which he demonstrates his skills, though his creativity extends beyond his manipulative experiments. Brown is also a painter and photographer whose work has been shown in galleries, and can be perused on his website.
Despite the fact that his illusions are so psychologically boundary-pushing, Brown insisted to The Daily Beast that he doesn't "exploit vulnerable people." In fact, he tries to expose charlatans and faith healers, because they can take advantage of people with claims of special powers that they don't possess. Brown didn't purport to have any special abilities either, though he did say that sometimes the "psychological environment" he created allowed people to realize things about themselves. Sometimes it even helped them get past issues they had been dealing with. Brown said:
I'm treading a fine line between mystery and amazement and impossibility, and at the same time treading that line not doing things that are not worth it — those areas that faith healers try to exploit — while still trying to create a powerful enough effect without promising those things.
Brown started down his current career path while he was at university in Bristol. He was studying law and German, but after seeing a show by the illusionist and hypnotist Martin S. Taylor, Brown found a new passion. He began to research hypnotism and magic, discovering that it was a good outlet for some of his more attention-seeking behavior, as he told The Telegraph. He had his first TV special, Derren Brown: Mind Control, in 2000 on Channel Four, and others followed.
If The Push piques your interest when it arrives on Netflix on Feb. 27, then Brown has a lengthy back catalogue for you to check out, too. In addition to several stage shows and TV series and specials, Brown has also published a few books, including Tricks of the Mind, Happy: Why More or Less Everything Is Absolutely Fine, and Confessions of a Conjuror. They might give you a little more insight in Brown's methods. But as he told The Daily Beast, there was nothing all that miraculous about what he was doing, despite how it might look from the outside:
I sell you a story. That's all it is. I try and get you to join up the dots in a particular way. It's all there in front of you. If you're amazed by it, you've joined up the dots in a particular way. It's all perfectly explicable.
When he's not tackling his artistic pursuits or holding an entire audience in his sway, Brown reportedly lives in the U.K. with his partner and a dog named Doodle.
Check out Romper's new video series, Romper's Doula Diaries:
Watch full episodes of Romper's Doula Diaries on Facebook Watch.